Deakin researchers win Eureka Prize for bomb detector
Media release
29 August 2019
Three Deakin researchers are part of a team awarded a Eureka Prize for developing a world first inorganic explosives detection device that will help improve bomb detection capability at airports and other public spaces.
Professor Rosanne Guijt from Deakin's Centre for Regional and Rural Futures, Associate Professor Robert Shellie from the School of Exercise and Nutrition Sciences and Ryan Yi Heng Nai, post-doctoral research fellow, Life Science, are members of Team Grey Scan which won the highly esteemed prize for Outstanding Science in Safeguarding Australia.
Professor Guijt, Associate Professor Shellie and Mr Nai previously worked at the University of Tasmania with the research team that developed the methodology underpinning 'GreyScan', a trace detective device that can identify inorganic explosives in under a minute.
Professor Guijt said GreyScan had the potential to improve bomb detection capability at train stations, cargo and mail handling facilities and public events.
"Improvised explosive devices (IEDs) are home-made bombs that can be made from readily available inorganic compounds, including fertiliser," Professor Guijt said.
"IEDs have been used in a range of attacks such as the 2002 Bali bombings that killed 202 people, including 88 Australians.
"GreyScan is the first trace detection device that can detect these inorganic compounds in rapid time."
The GreyScan system provides high-resolution detection capabilities of laboratory-based instrumentation in a robust and compact unit.
Lightweight and portable, the unit can operate on internal batteries and has been designed for continuous throughput of samples with a rapid analysis time of less than 40 seconds.
GreyScan is in production at Grey Innovation's newly established manufacturing facility in Port Melbourne to fulfil global orders.
A full list of Eureka Prize winners can be found here.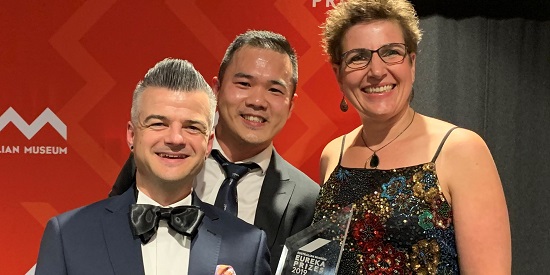 More like this
Media release
Faculty of Science Engineering and Built Environment, Faculty of Health, School of Exercise and Nutrition Sciences, School of Life and Environmental Sciences
Centre for Regional and Rural Futures (CeRRF)
Designing smarter technologies