Deakin Residential Services appoints Ms Marion Bayley as CEO
Media release
23 November 2021
Deakin Residential Services (DRS) is delighted to announce that long-time Deakin staff member, Ms Marion Bayley, has been appointed as CEO. She takes the reins from outgoing leader Mr Vincent Wilson as he moves on to another exciting opportunity after eight years at the helm of DRS.
Ms Bayley brings a wealth of experience in senior leadership in the student accommodation sector, having served as Head of Operations and General Manager of DRS' Geelong campuses and President of the Asia-Pacific Student Accommodation Association (APSAA). Ms Bayley is also President of Geelong-based arts organisation the Bluebird Foundation.
"DRS has expanded and grown with huge success over the past eight years under Vince's guidance. COVID-19 has certainly sent us some curve balls over the past 18 months, so I'm looking forward to leading the outstanding team at DRS as we recover and rebuild," said Ms Bayley about her new role.
"I'm a big believer that leadership matters most in the face of challenge, and I am excited by the opportunity to stand up when it matters most to our community."
Ms Bayley said she is excited to continue working with the DRS team.
"The best things about DRS are the staff and students, and the fact that no two days are the same," she said.
"You never know what you're going to get in student accommodation but whatever is thrown at you, knowing you can support your residents to achieve the best possible outcomes makes it easy to come to work every day."
Outside of work in student accommodation, Ms Bayley balances a love of sports and the arts. A massive Western Bulldogs fan, she is at home cheering on her team or appreciating good music, as she is making important decisions on campus. It's this breadth of passion, experience and focus that will benefit DRS.
During this transition, Deakin is recognising the important impact DRS' inaugural CEO, Mr Wilson made. He led significant growth in Deakin's on-campus accommodation offering and will leave a lasting legacy. Mr Wilson is the new CEO of Mallee Accommodation and Support Program (MASP), a not-for-profit community organisation based in Mildura, and will employ the leadership skills developed at Deakin to help the community in the Mallee Region.
"I'm looking forward to working with another amazing organisation that does great work for so many people in the community and meeting many new colleagues and friends," said Mr Wilson.
"I'll miss the team at DRS, among whom are some of the most amazing people I've met in my career."
Reflecting on his time at DRS, Mr Wilson said:
"I love that what we do at DRS truly matters. We have such a unique opportunity to make a positive impact on the lives of the young adults that live with us.
"I am tremendously proud of everything we have achieved, from tripling the size of the business in just a few short years, to growing our respectful and inclusive communities on campus.
"I'm thrilled to be leaving DRS in the very capable hands of Marion, my colleague of the past eight years, who along with the rest of the team I have every confidence will guide the business through the challenging years ahead."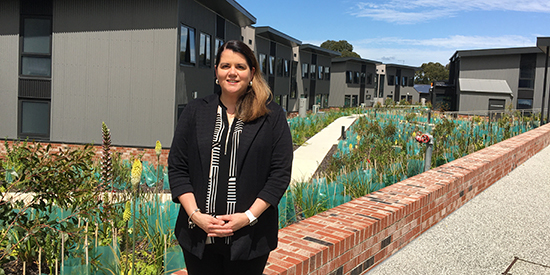 More like this
Media release