Deakin shares Edmund Gill's scientific collection with the world
Media release
05 October 2017
One of Victoria's most significant scientific collections is now more accessible than ever thanks to an ambitious digitisation project through the Deakin University Warrnambool Campus Library.
The Edmund Gill Collection was officially launched in late August following years of painstaking digitisation, and includes online versions of 17 of Dr Gill's geological field notebooks.
Dr Gill was an internationally acclaimed scientist and incredibly prolific researcher, whose wealth of scientific papers were published between 1938 and 1985 covering a broad range of topics including sea level change, palaeontology, vulcanology, ancient temperature calculations, coastal geomorphology, sedimentology, weathering and erosion, and Aboriginal prehistory and archaeology.
The Edmund Gill Collection consists of field notebooks, photos, colour slides, aerial photos, maps, manuscripts, and reprints of the 388 scientific papers that document his research.
Deakin University School of Life and Environmental Sciences Honorary Associate Professor Dr John Sherwood said the collection had immense historical value.
"The notebooks are an amazing testament to Dr Gill's discipline when it came to recording his observations," Dr Sherwood said.
"They constitute a valuable resource and have already been accessed by honours and postgraduate students and other researchers.
"The Gill photographs and slides also have historical value as a record of sites now no longer accessible or coastlines which have undergone significant change over time."
Dr Sherwood said Dr Gill had a profound influence in the scientific community, including his years of service as secretary, treasurer and finally president of the Royal Society of Victoria - the state's oldest independent scientific learned society.
The Edmund Gill Collection is available to access online here.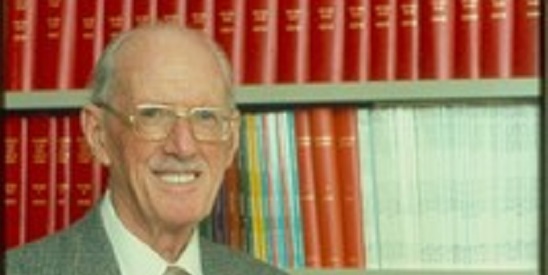 Key Fact
Dr Edmund Gill. CREDIT: Richard Goodwin.
More like this
Media release
School of Life and Environmental Sciences
Sciences, Environment