Deakin sport scientists find netball Super Shot a risky proposition
Media release
27 April 2021
With the controversial 'Super Shot' back in play for the 2021 Suncorp Super Netball season, Deakin University sports scientists warn the risk of attempting Super Shots likely outweigh the extra points on offer, unless teams are chasing down a lead.
A year on from its introduction, Dr Aaron Fox, Dr Lyndell Bruce and Dr Will Vickery from Deakin's Centre for Sport Research analysed updated shooting statistics from the 2020 season.
The researchers examined the relative risk of missing from Super Shot and standard shot ranges, and to estimate scoring opportunities with teams taking variable proportions of their shots from standard and Super Shot range. They also conducted an online survey to uncover player perspectives of the Super Shot.
Analysis of the 2020 goal shooting statistics found that players were approximately four times more likely to miss from the Super Shot compared to the standard shot range during the 'power five' period.
The statistical simulations revealed that taking a low proportion of Super Shots, for example less than 20 per cent of total shots, was a relatively safe and consistent but limited scoring strategy; while taking a high proportion of Super Shots, or more than 80 per cent of total shots, could generate both very high and low scoring and open teams up to much more volatile results.
"It's a 'live by the sword, die by the sword' analogy where the sword is the Super Shot. Teams may need to decide if they think it is a risk worth taking," Dr Fox said.
"Our analysis of shooting statistics from pre-2020 seasons suggested that the two-points on offer was good value for the risk of taking Super Shots.
"The introduction of the Super Shot rule has, however, elevated the risk of taking long- versus short-range shots – most likely from the way teams have adjusted their approach to defending long-range shots.
"The much higher risk of missing Super Shots means the risk-reward balance is in favour of sticking with standard shots in general, but certain match-situations where teams need fast, high-scoring play (for example chasing down a lead) may require a different strategy."
The preliminary results of the researchers' online survey of players show the rule remains considerably divisive.
"It appears that defensive players have a more negative perspective on the rule and were more likely to agree that they have had to adapt their playing style compared to attacking players," Dr Fox said.
"Defenders were, however, more likely to report an improvement in their perspective of the rule over the first year.
"There was a strong stand from the surveyed players to keep the rule out of international competition, and they also felt that the rule might impact how young netballers play."
To date, 38 players across six teams have completed the survey, with some additional key findings being:
Approximately half of the players surveyed felt more positive about the Super Shot following its first season – suggesting that the rule may be growing on some players. However, approximately 20 per cent felt more negative about it following the first year.
Defensive circle players frequently agreed that the rule had a negative impact on their playing style and defensive strategy
Over 80 per cent of players surveyed felt that the lack of pre-season practice matches impacted their preparation for playing with the rule in its first year.
Attacking circle players felt that their opponent defended them differently during the Super Shot periods, which coincided with defensive players reporting that they needed to change their defensive strategy to prevent their opponents from receiving Super Shot attempts.
Defensive circle players reported sacrificing close-range shots to prevent Super Shot attempts during the 'power five' period.
"The results from this research can further assist coaches and players in developing tactical strategies for 'power five' periods," Dr Fox said.
"Understanding player perspectives can help reveal the impact of rule changes, but also guide future considerations around rule changes and how to trial or implement these."
NOTE: 'Super Shot' comes into play during the last five minutes (power five) of each quarter, giving goal attacks and goal shooters two points for every successful shot from a 1.9m zone within the goal circle.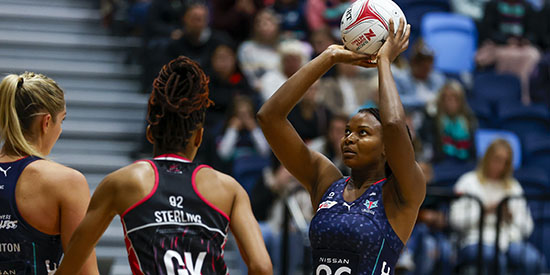 More like this
Media release
Centre for Sports Research (CSR)
Sport
---
Related News
Deakin welcomes Labor's $10m pledge for new indoor stadium
Deakin will partner with Federal Labor to build a new state-of-the-art four-court indoor sports stadium at the Waurn Ponds campus, with a $10 million election pledge announced by The Hon. Tanya Plibersek MP, Deputy Opposition Leader and Shadow Minister for Education and Training, and for Women.
New Deakin tracking study captures pro netball performance
Deakin sports experts are using local positioning technology to track and evaluate elite netballers on the court, producing new information and position-by-position breakdowns to assist coaches and optimise players' physical preparation.