Deakin University and Geelong Cats Celebrate IDAHOBIT
Media release
17 May 2022
Deakin University and the Geelong Cats are partnering to celebrate International Day Against Homophobia, Biphobia, Interphobia & Transphobia (IDAHOBIT) on 17 May 2022.
The day marks the anniversary of the World Health Organisation's removal of the classification of homosexuality as a mental disorder in 1990 and celebrates LGBTQIA+ people globally.
Deakin - alongside the Deakin University Student Association (DUSA) - recently announced it's membership with Pride in Sport; are a national not-for-profit sporting inclusion program, specifically designed to assist sporting organisations at all levels with inclusion of employees, athletes, coaches, volunteers and spectators with diverse sexualities and genders.
Joining Pride in Sport is a key step for Deakin to ensure that all people have the right to freely participate in sport through the implementation of inclusive practices to ensure the safe and equal inclusion of LGBTQIA+ identifying people.
Deakin Vice-Chancellor Professor Iain Martin said:
"At Deakin University, we have made a deep commitment to inclusion and diversity – it is central to our organisational values. We support and welcome people from the LGBTQIA+ community and are proud to work together with students and staff to create an open and accepting experience for everyone, both on and off campus.
"The Geelong Cats have long been a special partner with Deakin, and as well-known organisations within the community it is incredibly important that we stand together on such a fundamental issue," said Professor Martin.
In 2021Deakin launched the Pride Stairs at all four campuses to celebrate its commitment to inclusion and creating a stronger sense of belonging on campus.
The Geelong Cats have worked alongside the LGBTQIA+ community for a number of years, with its women's team wearing the first ever AFLW Pride Guernsey providing a powerful message of inclusion and acceptance.
This year, the Geelong Cats men's and women's players demonstrated their support by wearing rainbow socks during training, participating in education sessions and hosting their first home AFLW Pride match. The players and staff will again show the same support at training and through education sessions aligned with IDAHOBIT day.
As the first AFL club to partner with Proud 2 Play, the Geelong Cats are currently working with the organisation to develop their Rainbow roadmap.
Geelong Cats Chief Executive Steve Hocking said:
"We understand the important role IDAHOBIT Day plays in creating safe, inclusive and welcoming environments as a workplace, club and sport" said Mr Hocking.
"Days like today are an opportunity to not only welcome and celebrate the LGBTQIA+ communities' contribution, but also recognise there is still more work that needs to be done".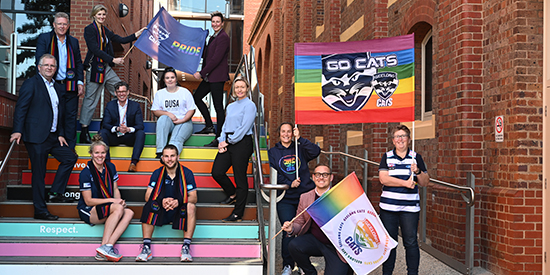 More like this
Media release