Deakin University and Lancaster University (United Kingdom) are collaborating on the development of an innovative joint campus in Bandung, West Java
Media release
17 November 2022
Deakin University and Lancaster University are delighted to announce at the B20 in Bali, that they are actively working together on the development of an innovative international education initiative in Bandung, Indonesia.
By bringing together their combined reputation for world-leading education and research with their extensive experience in international education, Deakin and Lancaster are committed to offering the highest quality educational opportunities to Indonesian and international students, while also working to support the research and development priorities of Bandung, West Java and Indonesia, cooperating closely with partner universities in Indonesia.
The campus in Bandung has received strong support from the Australian and British Governments and will offer a unique combination of an Australian and British degree subject to approval by national regulators. Over recent months colleagues from Deakin and Lancaster have met with key stakeholders from the West Java Government and Indonesian Ministries, to learn more about how they may support the higher education agenda in West Java and Indonesia. Both universities had also held constructive discussions with leading Indonesian universities, on how the new campus may contribute to and enhance the higher education provision and joint research.
This project is being facilitated and supported by Navitas, which has a long history in the provision of transnational education, with a track record in helping universities reach new students in new locations through its managed campuses, delivering exceptional academic outcomes and student experience.
Professor Iain Martin, Vice-Chancellor, Deakin University added:
"Our joint campus in partnership with Lancaster University is very significant and represents a key milestone in Deakin's long history of engagement with Indonesia. Indonesia will make great strides as a global economy in the next few decades, and as a near neighbour of Australia, there is high potential for mutually beneficial collaboration. Once approved, not only will the education offerings enable students to experience two global universities but importantly Deakin will use the joint campus as a base from which we will continue to build our links with local institutions and industry while connecting our Australian-based students, staff and communities to Indonesia."
Professor Andy Schofield, Vice-Chancellor, Lancaster University said:
"We are delighted to be working with Deakin University and in dialogue with University colleagues and Government officials in Indonesia to explore how we might add value through our experience of international education and research in West Java. Lancaster is committed to making a positive difference in the lives of students and the wider society wherever we operate. I have very much appreciated the warm welcome and support we have received in Indonesia. We look forward to even closer engagement with stakeholders as we move forward with our shared plans."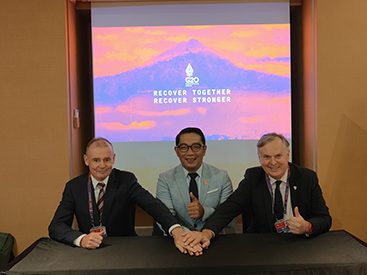 More like this
Media release
Deakin Business School, Faculty of Arts and Education, Faculty of Business and Law, Timely