Deakin University research leads to ADF driver simulator purchase
Media release
27 February 2019
Deakin and motion simulation company Universal Motion Simulator Pty Ltd (UMS) have today welcomed the Australian Government's contract to procure the University-developed Reconfigurable Driver Simulator.
UMS Chief Executive Officer Cameron Selkrig and UMS Director Kerrie Parker today joined Member for Corangamite the Hon. Sarah Henderson MP and Australian Defence Force Director General of Combined Arms Fighting Systems Brigadier Greg McGlone to sign the new agreement at the University's Waurn Ponds Campus.
The investment will enable cost-effective driver training for the Boxer Combat Reconnaissance Vehicle (CRV) being delivered by Rheinmetall Defence Australia. Drivers will experience real-life scenarios and realistic vehicle motion while under direction from an experienced Army instructor.
Ms Parker, who is also Deakin University Chief Financial Officer, said the formation of UMS as a company to manufacture Australian technology for the Defence market was a perfect example of universities living their purpose to translate the laboratory into real world outcomes.
"Deakin is proud to be leading the transition from plant-based manufacturing to the advanced manufacturing required of the future. This will enable Australia to not just keep up with the new way of designing, building and using commodities, but to be ahead of the pack," Ms Parker said.
The Reconfigurable Driver Simulator commercialises the Deakin-developed technology, led by researchers in the University's Institute for Intelligent Systems Research and Innovation (IISRI).
Mr Selkrig said that the use of high-fidelity simulation is becoming a critical capability of Defence Forces around the world where the need to build and maintain competence in the operation of complex vehicles and aircraft is critical to effectiveness.
"It is essential that our Australian Defence Force has access to world-leading systems, resources and training, but it is equally important for both our security and our economy that they are able to source locally-designed and built technology," he said.
"UMS is delighted the Reconfigurable Driver Simulator will support the Army in providing the best trained drivers of its highly technical fleet."
The Reconfigurable Driver Simulator includes a common motion platform comprising a robotic arm, an instructor operator station, vehicle specific simulation software and cabin. The cabin simulates the driver's position of the actual vehicle with replica controls and functions, while the simulation software mimics the physics of the vehicle for the Trainee.
The cabin can be removed and replaced with another variant, allowing the simulator to be used for multiple types of vehicles.
UMS currently employs nine staff and hopes to increase that to 20 to support future growth. The company is based at Deakin's advanced manufacturing business incubator, ManuFutures, and aims to use Victorian-based contractors for component fabrication.
The Australian Defence Force has purchased six RDS systems, with the simulators to be delivered in 2022.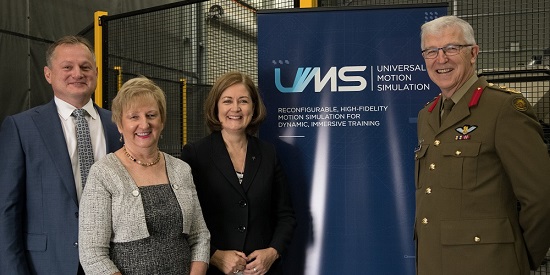 Key Fact
L-R: UMS CEO Cameron Selkrig, UMS Director Kerrie Parker, Member for Corangamite the Hon Sarah Henderson MP, and ADF Director General of Combined Arms Fighting Systems Brigadier Greg McGlone.
More like this
Media release
Institute for Intelligent Systems Research and Innovation (IISRI)