Deakin University teams up with SportNXT ahead of global summit
Media release
17 March 2023
Deakin University has partnered with SportNXT as the event's official education partner, highlighting the university's position as a global leader in sport research and education.
SportNXT is an innovative sport thought and leadership forum hosted annually in Melbourne, Australia's sporting capital, attracting leaders from across the globe to connect, network and share ideas.
Deakin, home to the world's best sport science school and currently ranked #6 in the world for sport education, played an important role at the inaugural event in 2022 through Dr Jonathan Robertson's research into how the pandemic changed the landscape for careers in sport.
As the exclusive education partner for 2023 and 2024, a select group of Deakin sport students will have the opportunity to rub shoulders with the brightest minds in the industry when this year's conference kicks off on March 28. Notable attendees include Formula 1 President and CEO Stefano Domenicali, International Paralympic Committee President Andrew Parsons, and Australian Sports Commission Chair Josephine Sukkar AM.
Deakin Sport Network Director Professor David Shilbury said the partnership reaffirmed Deakin's position as a sector-leader in sport education as the nation embarked on a golden decade of sport.
"We have a huge number of big-ticket events that will be staged on our shores over the next 10 years, from this year's FIFA Women's World Cup to the Commonwealth Games in 2026, and the Olympic and Paralympic Games in Brisbane. This will create thousands of jobs across a variety of sport-related disciplines," Professor Shilbury said.
"Deakin is committed to powering the next generation of sport leaders and this opportunity with SportNXT means we can continue to not just provide them with the training they need to excel, but to also connect them with established industry professionals so they are best prepared to shape the industry's future".
Aside from world-class teaching and learning opportunities, Deakin's sport offering includes a state-of-the-art sports precinct, including an MCG-sized AFL oval, FIFA-grade soccer pitch, an eight-lane 400m athletics track and basketball and netball courts.
SportNXT CEO Hamish Anderson said the partnership with Deakin was a genuine enabler for high-quality professional development and an investment in the next generation of sport leaders.
"While SportNXT is playing a pivotal role in the gathering of critical intelligence for the sporting sector's future, the summit also plays a part in the nurturing of future leaders," Mr Anderson said.
"For sport to become an even more significant industry – both economically and socially – it needs to attract more and more innovative thinkers. We are therefore delighted to welcome a group of Deakin sport students to SportNXT to share ideas and rub shoulders with industry leaders."
Share this story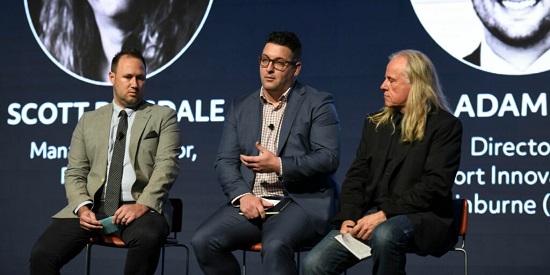 More like this
Media release
School of Exercise and Nutrition Sciences