Deakin University's Evelyn Araluen wins 2022 Stella Prize
Media release
02 May 2022
Deakin University congratulates Evelyn Araluen for winning the 2022 Stella Prize for her debut book of poetry, Dropbear.
Araluen, 29, a Goorie-Koori woman and lecturer within Deakin's School of Communication and Creative Arts, described the history-making win on Thursday as an "incredible honour".
Araluen is the first poet to take home the $60,000 accolade. This year marked the first time poetry was eligible for the prestigious award in its decade-long history.
Miles Franklin-winning Bundjalung author and judging panel chair Melissa Lucashenko presented the prize.
She said Dropbear, which uses lyric meditations, memoir, and pastiche to pick apart themes of Australiana kitsch and settler-colonial tropes, was a "a wild ride".
"Like the namesake of this title, this collection is simultaneously comical and dangerous. Dropbear is remarkably assured for a debut poetry collection, and I think we can safely say it announces the arrival of a stunning new talent to Australian literature," Ms Lucashenko said.
Executive Dean of the Faculty of Arts and Education Professor Vanessa Lemm said Araluen's achievement was a fantastic accomplishment.
"To see Evelyn claim the award for such an inspiring, challenging and entertaining piece of work marks a proud moment for Deakin University," Professor Lemm said.
"As a First Nations poet, Araluen has opened the floodgates for a conversation on how Australia is presented in traditional literature and how the voices, thoughts and beliefs of Indigenous Australians can be more appropriately reflected in modern works.
"Well-done Evelyn. We're excited to see what comes next in your career."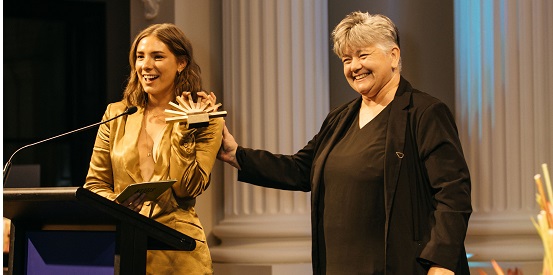 More like this
Media release
Faculty of Arts and Education, School of Communication and Creative Arts
---
Related News
Deakin congratulates 2022 Australia Day Honours recipients
Deakin University congratulates all members of its community who were recognised as part of the 2022 Australia Day Honours. The University is proud of the contributions and achievements of our alumni, staff and former staff, supporters and friends
Hayley Millar Baker survey exhibition featured at the Deakin Art Gallery
Opening this week at the Deakin University Art Gallery is the exhibition There we were all in one place an early career survey of cross-cultural artist Hayley Millar Baker (Gunditjmara, AU). The project is developed and curated by Stella Rosa McDonald, Curator and Manager of the University of Technology Sydney, Gallery and Art Collection. The Deakin University Art Gallery is the first venue for this incredible exhibition which later tours to the University of the Sunshine Coast (Queensland) and the Flinders University Muesum of Art (South Australia).