Deakin's Blue Carbon Lab recognised on national scale for climate change research
Media release
24 April 2023
Researchers from Deakin University's Blue Carbon Lab have been recognised for their work realising the potential for oceans and coasts to mitigate climate change on a global scale.
The Frontiers Planet Prize supports scientific breakthroughs that have global potential to help humanity remain within the boundaries of a stable ecosystem.
Professor Peter Macreadie, founder of the Blue Carbon Lab, accepted the national award on Earth Day (22 April) on behalf of his research team for the article, Blue carbon as a natural climate solution, published in Nature Reviews.
"My colleagues and I have demonstrated the enormous potential for oceans and coasts to contribute to carbon draw-down, known as blue carbon, at a global scale," Professor Macreadie said. "Our current mission is to break through barriers to operationalise blue carbon markets that are scalable, replicable, equitable and cost-effective."
National and international champions have been honoured at a special session of the Frontiers Forum in Switzerland titled, 'A Sustainable Planet – Pushing the Boundaries of Science'.
Near-shore and coastal ecosystems such as mangrove forests, seagrass meadows and tidal marshes remove carbon from the air and store it in sediments, where it can be locked away for hundreds of years, through to millennial timescales. These systems are referred to as "blue carbon" ecosystems.
For the first time, Deakin researchers were able to demonstrate that while protecting existing blue carbon ecosystems could avoid over 300 million tonnes of carbon dioxide emissions per year, restoring degraded or lost ecosystems could remove an additional 841 million tonnes of carbon from the atmosphere, per year, by 2030.
Combined, this would amount to mitigating roughly 3% of annual global greenhouse gas emissions.
For Professor Macreadie and his team, quantifying their potential for carbon capture is the first step towards including these ecosystems in national and global climate mitigating accounting.
"At the same time," says Professor Macreadie, "this will boost biodiversity, enhance fisheries, restore cultural connection, and improve the resilience of our coastlines."
Professor Macreadie was one of three researchers nominated by the Australian Academy of Science for the prize.
The Academy;s Foreign Secretary, Professor Frances Separovic said:
"Collectively, these scientists are contributing to a body of research that continues to grow in importance each day. We hope this recognition supports them and encourages others to further expand research in sustainability."
*Photo by Through The Looking Glass Studio - http://looking-glass.com.au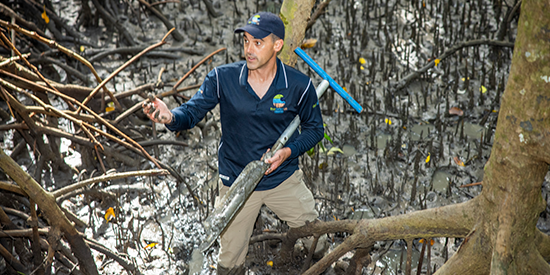 More like this
Media release
Faculty of Science Engineering and Built Environment