Deakin's Carbon Nexus Director recognised in 2018 Advance Awards
Media release
19 September 2018
The Director of Deakin University's world-leading Carbon Nexus research centre will be honoured at the 2018 Advance Awards for his contribution to Australia's place on the world stage.
Derek Buckmaster, whose leadership and experience within the composites, plastics, petrochemicals and automotive sectors has seen the $34 million Carbon Nexus established as one of the world's most advanced fibre research centres, has been announced as the winner of the Advance Awards' Advanced Manufacturing Award category for 2018.
Now in its seventh year, the Advance Awards celebrate international Australians, those living abroad and those who have returned home following high achievement overseas, who exhibit remarkable talent, exceptional vision and ambition.
Advance is an initiative supported by Australian Government funding. In 2018, Advance welcomes NAB as its major partner for the Advance Awards and its Innovation Programs. The Advanced Manufacturing Award is sponsored by Dow Chemical.
The awards will be presented 18 October at Sydney Town Hall across categories from education, sustainability and the arts to financial services and technology innovation.
Mr Buckmaster, who is Carbon Nexus Director and Management Committee Chair, said he was honoured to receive the award.
"It's an honour to be recognised by Advance for the work we have been doing in the global carbon composites sector; it came as a real surprise," he said.
"At Carbon Nexus it's important to approach our research and our advanced manufacturing from a global perspective. We are connected into a global market, and a global carbon fibre industry that's growing at a great rate, with more and more companies starting to make use of lightweight material technologies.
"The impact this will have across a wide range of industries over the coming decade is profound, and the work we've been undertaking for these past four years has placed Carbon Nexus at the core of one of Australia's most significant investments in global technology, developing the people and research base that will shape our world in years to come.
"We had high expectations when we first set out with Carbon Nexus, and I'm proud of how our team has delivered on what was promised, to become one of the world's leading carbon fibre research facilities, playing a role in re-inventing Australia's manufacturing industry for the modern era."
Before assuming his role with Deakin in 2014, Mr Buckmaster led the Functional Polymers business unit of Saudi diversified manufacturing company SABIC, and spent 19 years with GE Plastics in various roles including marketing, product development, application technology, sales, information technology and Six Sigma.
He has worked in numerous countries including China, Japan, Singapore, The Netherlands, Saudi Arabia and the United States.
More details: carbonnexus.com.au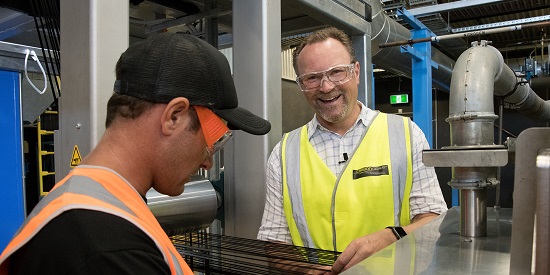 More like this
Media release