Deakin's ManuFutures inspires next generation of local entrepreneurs
Media release
17 August 2023
Year 10 students from 12 high schools across Geelong attended Deakin University's Waurn Ponds campus this week to participate in the Geelong Science and Engineering Challenge, a national event aimed at expanding student career pathways in the critical areas of science, technology, engineering and mathematics.
Students competed in fun and engaging hands-on activities, including designing an earthquake-proof tower, building a hovercraft or bridge, providing electricity to a city, and creating an environmentally friendly house.
The challenge, presented by the University of Newcastle in partnership with communities, Rotary clubs, universities and sponsors, opens students' minds to a range of career possibilities and encourages them to consider selecting STEM subjects in years 11 and 12, leading to essential careers that alleviate skill shortages in the local community.
Deakin, its advanced manufacturing innovation hub ManuFutures, and Rotary proudly supported this year's Geelong Science and Engineering Challenge.
Mark Curnow, Director of ManuFutures, said he hoped that through Deakin's involvement in the event, his team could foster a love of creative innovation and inspire the students to consider engineering as a career pathway.
"Showing students at this stage in their education what a career in engineering is like offers us the opportunity to build a pipeline of the next generation of local entrepreneurs and manufacturing start-ups," Mr Curnow said.
ManuFutures runs the Ignite program – a tailored mentoring and coaching program for anyone who wants to take their manufacturing, engineering or product-based design idea down a commercial pathway.
"Of the 41 graduates of the Ignite program, six have commercially available products on the market, two have software application businesses, and another is now a research and development company in the medical arena," Mr Curnow said.
"ManuFutures aims to bring everyday people with incredible ideas into the commercial market. We are actively increasing the skilled workforce of the future."
The challenge was held in the Centre for Advanced Design in Engineering Training (CADET) in the School of Engineering at Deakin's Waurn Ponds campus. Engineering staff and students mentored high school students on the day and fostered their interest in STEM studies.
The Science and Engineering Challenge is a national program, with participation last year reaching almost 20,000 students from more than 600 schools around Australia.
Teachers involved in past years have indicated that the challenge had a significant, positive and lasting effect on the student's classroom approach to science and technology.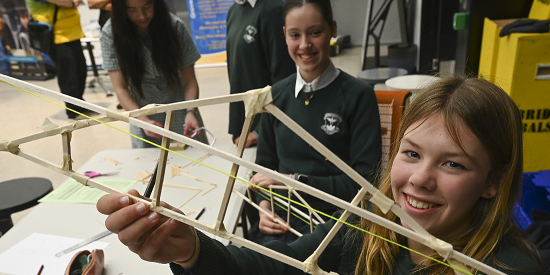 More like this
Media release