Deakin's Professor John Endler elected as a Fellow of the Royal Society
Media release
14 May 2020
Professor John Endler FRS, Emeritus Professor of Zoology in Deakin University's School of Life and Environmental Sciences, has been elected a Fellow of the Royal Society, the world's oldest and arguably most prestigious science academy, based in London.
The former resident of the Geelong region who now lives in Southern Queensland is widely regarded as one of the world's leading evolutionary biologists. His research spans animal behaviour, evolution and ecology.
Professor Endler's research addresses fundamental questions in biology such as: How do new species evolve? Why are animals coloured the way they are? How do animals achieve protection from predators? His research has sparked a generation of research into selection in natural populations, and it has revolutionised scientific understanding of how animals perceive the world. As one of the fathers of the field of Sensory Ecology, his work has transformed our understanding of animal coloration and animal vision, and how these traits affect survival and reproduction.
Deakin Deputy Vice-Chancellor Research, Alfred Deakin Professor Julie Owens said the announcement marked the first time a Deakin academic has been elected a Fellow of the Royal Society.
"We are delighted and very proud of Professor Endler's achievements," Professor Owens said. "He has made a tremendous contribution both to research at Deakin and to global understanding of the natural world and how natural organisms adapt and interact with their environment. This will play a crucial role in conservation efforts as we seek to reduce the impact of climate change, over-population and habitat destruction into the future."
Originating in the 1660s, the Royal Society of London has reflected the story of modern science. Its 8,000 Fellows elected since then have been the leading scientific lights of the past four centuries, from Newton to Darwin to Einstein to Hawking. Professor Endler is one of 51 new Fellows elected in 2020 which includes six Nobel Laureates.
The Royal Society is a self-governing Fellowship made up of the most eminent scientists, engineers and technologists from the UK and the Commonwealth. Fellows and Foreign Members are elected for life through a peer review process on the basis of excellence in science. President of the Royal Society, Venki Ramakrishnan said that election as a Fellow was a recognition of exceptional individual contribution to science and, more significantly, provided a network of expertise that can be drawn on to address issues of societal and global significance.
"This year's Fellows and Foreign Members have helped to shape the 21st century through their work at the cutting-edge of fields from human genomics, to climate science, to machine learning," Professor Ramakrishnan said.
Professor Endler said he was delighted to be elected to the Society.
"It is a very high honour. I have always liked to do science for its own sake, but this is just amazing and very good news for my scientific fields," Professor Endler said.
John Endler was recruited to Deakin in 2009 by Professor Andy Bennett who was then Head of the School of Life and Environmental Sciences and establishing Deakin's Centre for Integrative Ecology in Geelong. Professor Endler was the first of three new Professors in the Centre, which is now a thriving research hub for more than 150 researchers.
"We had a vision to find and attract the world's best scientists to create a world-class ecological research centre at Deakin, and to augment and catalyse the talent already present. Professor Endler's election as a Fellow of the Royal Society is further evidence of the success of this approach, and his legacy will benefit Deakin University and the field globally," Professor Bennett said. "Plus John's research is so influential and fun."
Professor Endler said his move to Deakin was pivotal to continuing his research on Australian wildlife, which allowed him to continue to achieve breakthroughs. Fascinated by animals since he was four years of age, he has worked with various animals, achieving his most influential findings by observing wild guppies and Bowerbirds.
"Deakin set me up extremely well, with long-term equipment and supplies to continue my research with Bowerbirds, and my Deakin colleagues were a huge support," he said. "My main motivation has always been to try to figure out what makes animals do what they do and I was drawn to Australia by its unique wildlife. There is nothing in the world like Bowerbirds."
Professor Endler retired just two months ago, becoming an Emeritus Professor at Deakin in recognition of his distinguished service to his discipline.
"I plan on continuing in science, collaborating with colleagues at Deakin and other universities in Australia, Scandinavia and Europe, and I have lots of data to analyse and write up for the foreseeable future. Science is too much fun to stop just because I'm allegedly 'retired'," he said.
Professor John Endler Biography:
Born in Montreal in 1947, John Endler gained his Bachelor's degree from the University of California, Berkeley in 1969. He completed his PhD at the University of Edinburgh in 1973 and a Ford Foundation postdoctoral fellowship at Princeton University in 1972. He worked as an academic at universities in the US, Australia and the UK, most notably Princeton University and the University of California Santa Barbara, before moving to Deakin to be closer to his Bowerbird field sites and Australia's unique fauna and flora. He was elected a Fellow of the American Academy of Arts and Sciences in 2007, Fellow of the Australian Academy of Sciences in 2012 and a Fellow of the Royal Society in 2020.
Share this story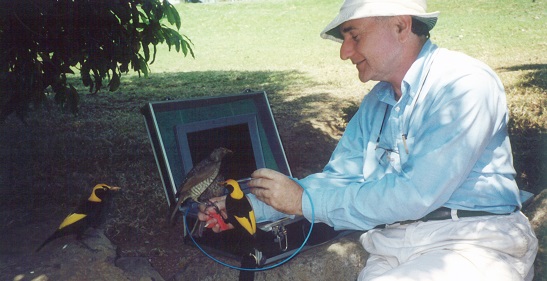 More like this
Media release
School of Life and Environmental Sciences, Faculty of Science Engineering and Built Environment
Centre for Integrative Ecology (CIE)
Enabling a sustainable world
Environment and sustainability, Science