Drawing on the Wall: Deakin Art Gallery unveils first exhibition of 2020
Media release
04 February 2020
Deakin University Art Gallery's first major exhibition for 2020 will be Drawing on the Wall - a series of wall drawings and site-responsive artworks from leading Australian artists Julia Gorman, David Harley, Kenny Pittock and Kerrie Poliness.
Presented by Deakin Curator James Lynch, the exhibition aims to create new works that maximise the architectural potential of Deakin's Burwood and Melbourne CBD gallery spaces, while also providing students with hands-on learning opportunities.
"Each of these newly commissioned works has been conceived by the artists with student participation and collaboration in mind, so the exhibition itself is an experience promoting real life learning, relationships and knowledge," Mr Lynch said.
A group of eight Deakin students has been working closely with the artists and Mr Lynch to help realise and assist in bringing these ambitious new artistic projects to life.
Students working with artist Kerrie Poliness will work to complete a major new geometric crystal pattern artwork using sign-writing tape. Those students working with Julia Gorman will help to create an artwork based on floral design and textiles from the 1930s and 1940s using adhesive vinyl, while Kenny Pittock's assistants will help to create a direct-to-wall painting based on his love of the Australian vernacular, following on from Pittock's recent project at MONA FOMA 2019.
As part of the exhibition, artist David Harley will present a newly-edited video projection at the Deakin Downtown Gallery which takes viewers through an animated painting space of mark making, colour and drawing. Deakin student artists have responded to this through their own creative practices which will be shown alongside Harley's original projection.
The Drawing on the Wall exhibition will be formally opened by Deakin Head of School of Communications and Creative Arts Associate Professor Matthew Delbridge on 19 February 2020.
WHAT: Drawing on the Wall, with Julia Gorman, David Harley, Kenny Pittock and Kerrie Poliness.
WHEN: Tuesday 18 February to Friday 27 March 2020.
WHERE: Deakin University Art Gallery, Building FA, Melbourne Burwood Campus, 221 Burwood Highway, Burwood. Gallery hours: Tuesday to Friday, 10am to 4pm. Deakin Downtown Gallery, Level 12, Tower 2 Collins Square, 727 Collins Street, Melbourne. Gallery hours: Monday to Friday 9am to 5pm. Free entry.
Image details:
Kerrie Poliness
Wall drawings BBKO (left) and OMG (right) installation view
Anna Schwartz Gallery, Carriageworks, Sydney 2014
© and courtesy of the artist and Anna Schwartz Gallery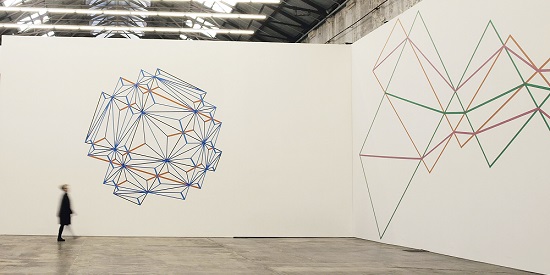 More like this
Media release