Electrifying idea wins global green tech prize for IFM research team
Media release
12 October 2020
A team of researchers from Deakin's Institute for Frontier Materials (IFM) has won a global green business ideas competition for developing sodium batteries to electrify motor scooters, buses and auto-rickshaws in Indonesia with the goal of cutting carbon dioxide emissions.
Climate Launchpad 2020 is the world's largest green business ideas competition, attracting 3,000 entries from 56 countries with the top two finalists in each of the eight categories pitching their ideas to win the Global Final on 2 October.

The Deakin team, ElevenStore (from sodium's atomic number), was victorious in the Sustainability Mobility category and also earned a position in the Climate-KIC Climate Launchpad Accelerator which – along with the €5,000 prize – will help them turn their idea into a reality.

The members of ElevenStore – PhD student Karolina Biernacka and early career researchers Dr Faezeh Makhlooghi Azad, Dr Jenny Sun and Dr Vahide Ghanooni Ahmadabadi – are all from the Institute for Frontier Materials' electromaterials group.

Ms Biernacka explained that ElevenStore's cutting-edge sodium battery technology was designed and created at Deakin and aims to compete with current battery technologies which can be unsafe and rely on dwindling and expensive global reserves of lithium and cobalt.

"We are all passionate about clean energy and want to have a positive impact on the environment," Ms Biernacka said.

"Our proposed sodium battery technology is composed of safe, sustainable, environmentally-friendly, earth-abundant and cheap raw materials. By employing the electrolyte technology developed at Deakin, it can also outperform traditional rechargeable batteries in terms of safety, cost and exceptional thermal stability.

"The indications are that this technology will be perfect for application in Indonesia. We are planning to significantly reduce CO2 emissions in Indonesia by electrifying their scooters, with Indonesia being the third-largest market in the world for scooters.

"The Indonesian Government has set a goal of replacing 20 per cent of its current energy sources with renewable energy by 2025. We have spoken already with Indonesian businesses keen to get this off the ground."

Director of the StorEnergy training centre within IFM, Alfred Deakin Professor Maria Forsyth, encouraged the team to participate in the project as a means of gaining the skills, expertise and contacts to achieve translation of the world-leading research.

"Congratulations to the ElevenStore team on their remarkable achievement in putting together an innovative energy storage solution that will make a real difference in reducing greenhouse gas emissions," Professor Forsyth said.

"Developing reliable energy solutions is vital for a successful transition to sustainable and renewable energy sources.

"It's also exciting to see ElevenStore embracing the concept of transitioning to a circular economy – a central part of our work at StorEnergy and IFM – with the electrodes to ultimately be sustainably-fabricated from waste biomass and batteries that can no longer serve for scooters being re-used for home battery storage in remote areas where access to electricity is limited."

Ms Biernacka said that as the project progresses, the ElevenStore team will continue to mentor and train other university students to turn their green ideas into successful outcomes.
"Participating in the Launchpad has been empowering," Ms Biernacka said.

"It's helped us to understand the translation of technology from the lab into reality and show other young researchers they can step out of the lab.

"Our goal is not only to spin out a technology that has the ability to change many lives, while also substantially reducing greenhouse gas emissions, but also to inspire and empower other young women to actively pursue their dreams."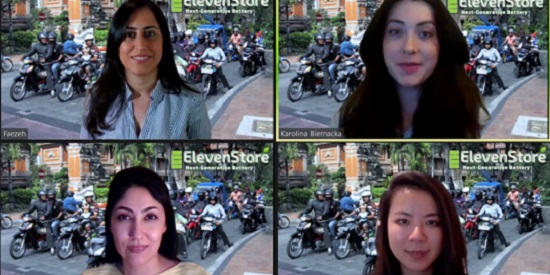 Key Fact
The ElevenStore team (clockwise from top left) Dr Faezeh Makhlooghi Azad, Karolina Biernacka, Dr Jenny Sun and Dr Vahide Ghanooni Ahmadabadi
More like this
Media release
Institute for Frontier Materials (IFM)