Electrons 'firing' at opening of Deakin's hi-tech energy storage centre
Media release
13 December 2019
A hi-tech energy storage centre that will develop solutions to Australia's future energy needs and places the Victorian workforce at the centre of scientific innovation is now officially open.
The new $6 million-plus storEnergy centre - supported with a $4.4 million Federal Government grant - will produce materials on a commercial scale for electrolytes and high energy density electrodes; and is also an energy training hub with regular private sector interface.
Deakin University Vice-Chancellor Professor Iain Martin today supported Senator for Victoria Sarah Henderson to officially launch the ARC Centre for Future Energy Storage Technologies at Deakin's Waurn Ponds campus.
"What we are celebrating today is the start of an exciting collaboration between leaders in academia, government and industry to increase our domestic knowledge and drive innovative solutions to Australia's energy needs," Professor Martin said.
"storEnergy symbolises the type of partnership that Deakin is prioritising, and we believe this is the future of innovation in Australia. Continued advancement in clean energy technologies, including generation, storage, and secure systems management, will be fundamental to Australia's efforts to reduce greenhouse gas emissions, combat climate change and address increasing demands for energy.
"Deakin has the capability and relationships to help drive this transformation to a more sustainable energy solution, and by doing so, we are supporting the communities we serve in a practical, future-oriented way."
Senator for Victoria Sarah Henderson officially launched and inspected the new centre.
Director of the centre and Alfred Deakin Professor Maria Forsyth confirmed that by working so closely with industry partners, researchers will design and manufacture new energy storage devices and components, including advanced Li-ion, super capacitors, and solid state Li and Na batteries, with improved rate capability, capacity and safety.

Partner organisations are Boron Molecular, CSIRO, DST Group, SupraG Energy, Calix Ltd, Sensorplex, Ionic Industries, Ciditec, Sentek, M Brodribb Pty Ltd, and Raedyne Systems.
In conjunction with industry partners, Deakin's storEnergy operations will also utilise the expertise of higher education partners Monash University, Melbourne University, Queensland University of Technology and University of South Australia.
"The potential of this centre excites me as a scientist and the fact we will initially employ 15 PhD students, five research fellows and a research engineer makes me proud as this centre's first Director," Professor Forsyth said. "The facilities, processes and partnerships we have in place will equip the next generation of researchers and the energy technology workforce with the skills needed to drive innovation, exploration and investigation."
Deakin expects the centre to unearth knowledge and create intellectual property in advanced energy materials, batteries and battery-control systems that will help small to medium-sized businesses play a world-leading role to advance and produce new storage technologies.
storEnergy will operate by integrating with Deakin's other world-class assets. It will utilise Deakin Waurn Ponds' Battery Technology Research and Innovation Hub (Bat-TRI Hub), the Institute for Frontier Materials' (IFM) world-class electrochemistry and NMR imaging labs, and the Centre for Advanced Design in Engineering Training (CADET). The Deakin Institute for Intelligent Systems Research and Innovation (IISRI) will also simulate and review smart grid and technology systems, while the Carbon Nexus carbon fibre and composite research centre will provide further scope for producing advanced energy prototypes.
The Federal Government in August 2018 announced a $4.4 million grant for the Australian Research Council Training Centre for Future Energy Storage Technologies.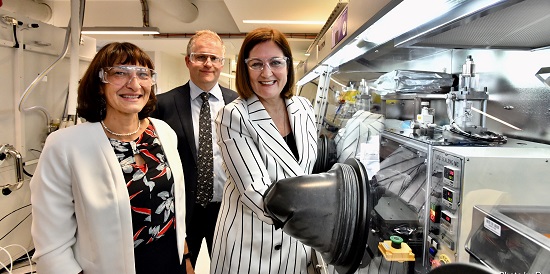 More like this
Media release
Institute for Frontier Materials (IFM)