Emma Kearney, Daniel Harford team up for 2022 David Parkin Oration
Media release
28 April 2022
North Melbourne star Emma Kearney shared her battles with sexism in sport in a moving address at the 2022 Deakin University David Parkin Oration for Sport and Social change on Wednesday evening.
With the theme, "You can't be what you can't see", the former cricketer turned pro-footballer tackled outdated beliefs about women's place in society and on the footy field.
Kearney made history as the first and only player to be named All-Australian in all six AFLW seasons. Her presentation comes as the AFLW prepares to welcome four new teams to the women's league in 2023, bringing it in line with the men's 18-team competition.
Kearney was joined on stage at the Federation Square event by former AFL player and current AFLW coach Daniel Harford.
They discussed topics including pay inequality and gender stereotypes, with Kearney revealing she nearly gave up the game for good due to the lack of opportunity.
"It wasn't until I was 12 when I was told, 'Emma, you can't play football any longer'," Kearney said.
"I distinctly remember being in the loungeroom, we were all watching the footy on TV, and it was all men. And I walked out."
Kearney said she had been abused by a stranger for kicking a football at her local footy oval. She had also been criticised for her looks and told to 'get back into the kitchen' since entering the AFLW.
While she was good at shrugging off the abuse, she said support for younger female players was critical. She also praised the AFLW for its inclusive and community-oriented atmosphere at games.
Deakin Vice-Chancellor Professor Iain Martin said the University was thrilled to host Kearney and Harford at this year's event.
"David Parkin is passionate about the transformative power of sport to create a better, fairer, more equal society – something we value strongly here at Deakin," Professor Martin said.
"Deakin welcomes the contributions of both Emma and Daniel as they share their own experiences of competing and working at the elite level in Australian sport and advocate for change."
The annual Oration honours the significant contribution of Dr David Parkin OAM in leadership, sport and education, while exploring the challenges and opportunities for sport to act as a driver of social change.
Professor Iain Martin said sport was "pervasive" in Australian culture, making it an excellent conduit for societal change.
Media contact:
Rebecca DiNuzzo
Communications coordinator, Deakin University
P: 03 9246 8402 M: 0407 878 813
E: rebecca.dinuzzo@deakin.edu.au
T: @DeakinMedia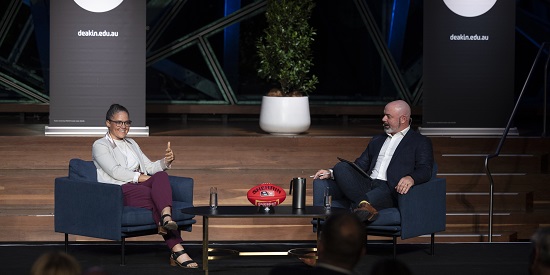 More like this
Media release