Eureka Prize win for world-first citizen science program
Media release
25 November 2020
A team of Deakin researchers from the School of Life and Environmental Sciences has been awarded a prestigious Australian Museum Eureka Prize for a world-first initiative that monitors the health of Victoria's coastline.
Associate Professor Dan Ierodiaconou, co-developer of the Victorian Coastal Monitoring Program and team leader on the project, said the team was thrilled to win the 2020 Eureka Prize for Innovation in Citizen Science.
"The idea to combine drone technology and citizen science to measure changes to our coastline first came about in 2017," Associate Professor Ierodiaconou said.
"The program began in 2018 and it's now grown to 14 groups of citizen scientists trained to undertake the shoreline surveys with drone photography on 15 Victorian beaches from Portland to Seaspray.
"Thanks to the enthusiasm and dedication of our volunteers, we've gathered masses of data that's available to all and making a real difference.
"The uptake has been diverse, from citizens using the data to better inform themselves of coastal change to government agencies using it to improve coastal monitoring and consultants using it for coastal hazard assessments.
"For example, VCMP data revealed that more than 5,000 cubic metres of sand was lost across just 750m of foreshore at Apollo Bay after a major storm in October 2018. Being able to precisely measure the erosion made it that much easier to manage a sand renourishment project.
"What really excites me is that we are only just beginning and there is so much more to come from this program."
Project partners on the VCMP are the Department of Land, Water and Planning, The University of Melbourne, Monash University, and Propellor Aerobotics.
The project team also includes the Deakin Marine Mapping Group based at Warrnambool campus as well as Post-doctoral students Dr Blake Allan, Mary Young, Rafael Carvalho, and Stephan O'Brien; PhD students Nicolas Pucino and Yakup Niyazi; Research Assistant Sam Wines; and Senior Marine Technical Officer Paul Tinkler.
A full list of Eureka Prize winners can be found here.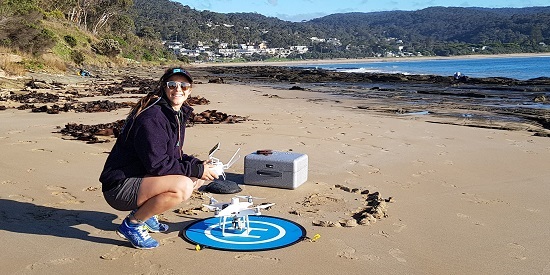 More like this
Media release
Faculty of Science Engineering and Built Environment, School of Life and Environmental Sciences
Centre for Integrative Ecology (CIE)