Expanded ManuFutures hub ready to support Australian-made manufacturing
Media release
06 February 2023
Deakin University's expanded $20 million ManuFutures hub is now complete and working in partnership with 14 successful and emerging businesses to grow advanced manufacturing capability in regional Victoria and Australia.
The new-look ManuFutures building at Deakin's Waurn Ponds campus has doubled in size to deliver an increased number of tenancy opportunities, new manufacturing incubator programs, training, and product engineering services.
The expansion was funded by the Victorian Government ($10 million) and Deakin University ($10 million) as part of part of the Government's $350 million Victorian Higher Education State Investment Fund (VHESIF) launched post-COVID.
Deakin Research Innovations Regional Manufacturing Director Mark Curnow said the completion of ManuFutures2 puts Deakin University at the forefront of manufacturing innovation for entrepreneurs, start-ups and existing businesses.
"Our new ManuFutures2 building includes collaborative working spaces, further rental tenancy bays for manufacturing businesses, and an Innoveering Centre that includes product engineering and development capability, and opportunities for research collaboration and integration," Mr Curnow said.
"Four new manufacturing businesses have already moved into the new spaces as tenants, with room for two more. A total of 14 successful and emerging global manufacturing businesses now call Deakin's ManuFutures home."
Deakin University Deputy Vice-Chancellor Research Professor Julie Owens said ManuFutures demonstrated Deakin's leadership and success in real world research and commercialisation, in partnership with industry.
"Since opening in 2018, ManuFutures has a successful track record of helping entrepreneurs and start-ups take ideas from paper, to prototype, to emerging global businesses," Professor Owens said.
"ManuFutures has helped create more than $1 billion in company value, incubated more than 17 advanced manufacturing start-ups, helped companies establish export markets in more than 35 countries, hosted 500 student placements, and created more than 120 advanced manufacturing jobs."
Victoria's Minister for Training and Skills, Higher Education, and Agriculture, Gayle Tierney, said that the Victorian Government's investment in ManuFutures as part of the Victorian Higher Education State Investment Fund is helping to strengthen innovation, training, and industry collaboration in regional Victoria.
"Deakin's new advanced manufacturing hub provides a space for higher education and industry to collaborate on complex challenges, ensuring opportunities in emerging industries and future jobs for Victoria's regional communities," Minister Tierney said.
To learn more about ManuFutures tenancies, training and services visit: https://www.deakin.edu.au/manufutures
Media contact:
Sherryn Bennett
Deakin University
M: 0418 563 987
E: s.bennett@deakin.edu.au
T: @DeakinMedia
This project includes co-contributions from the Victorian Higher Education State Investment Fund (VHESIF).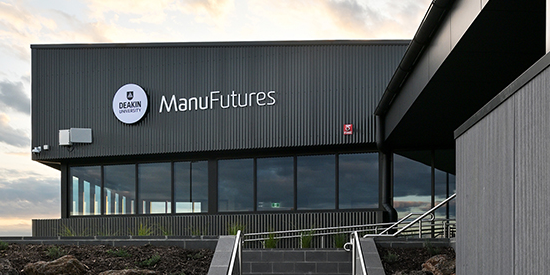 More like this
Media release