Funding boost secures new facilities for Deakin's technology, science and health students
Media release
15 July 2021
Deakin University's $26.5m Innovation in Technology, Science and Health capital works project has received a significant boost with the announcement of $2m funding through the Victorian Government's Higher Education State Investment Fund (VHESIF).
The project will provide new and improved facilities at the university's Burwood campus for students pursuing their passions in areas including cybersecurity, virtual reality, chemistry, science and environmental teaching, medical robotics, health e-technologies, and nursing and midwifery.
Dr Tien Kieu MP, Member for South Eastern Metropolitan and STEM Education Ambassador, and Will Fowles MP, Member for Burwood, joined Deakin University Vice-Chancellor Professor Martin for the announcement at the Burwood campus this afternoon.
Professor Martin welcomed the Victorian government's investment, which will allow the project to proceed after it was placed on hold due to the pandemic.
"This is another welcome and timely investment in the research and innovation capability of Victoria, and of Deakin University," Professor Martin said.
"In particular, its focus on technology, health and science comes at a time when our state and country most needs government support in these disciplines.
"Without such forward-planning and targeted investment, Australia's ability to deliver impact across these areas will fall behind its global competitors, and new opportunities will simply not be available to us."
Professor Karen Hapgood, Executive Dean of the Faculty of Science, Engineering and Built Environment (SEBE), said the Innovation in Technology, Science and Health project would bring many benefits.
"This funding will go directly towards our areas of strength and build our capacity for teaching and research in life and environmental sciences, information technology and health technologies," said Professor Hapgood.
"Importantly, the new facilities will also enable us to continue to develop real-world learning environments for our students, such as the capstone program and launch pad space – two initiatives that assist our final year IT students and recent graduates to develop the project management and product development skills that are in high demand across the sector.
"Deakin graduates are known for being workplace-ready, and we know how important this is for employers, and also for our students who wish to pursue entrepreneurial pathways.
"The state-of-the-art, modern facilities will also be a big bonus for international students as Deakin and Australia's university sector re-build following the mass disruption caused by the pandemic."
The Innovation in Technology, Science and Health (ITSH) project
A significant capital works project at Deakin's Burwood campus that will deliver:
Cybersecurity, internet of things (IoT) and data sciences labs, virtual reality technology; and maker, capstone and launch pad spaces that support co-innovation with industry partners
Environmental teaching, multi‐disciplinary science and PC‐2 labs
Concrete lab and synthetic chemistry lab expansion
Health E‐technologies Assessment (HEAL), Medical Robotics and Living Labs
Nursing and Midwifery Simulation Centre
The project will create 79 jobs by 2025 (54 jobs in construction and 25 jobs in post-secondary education and training).
The Victorian Government is contributing $2m through the VHESIF while Deakin is contributing $24.5m in cash and $12m in in-kind contributions.
Construction is due to begin in October 2021 with Phase One (VR laboratory, cybersecurity teaching laboratory, capstone space, synthetic chemistry laboratory, concrete preparation laboratory and nursing simulation facilities) due for completion in mid-May 2022. The remainder of works are scheduled for completion by the end of 2022.
Share this story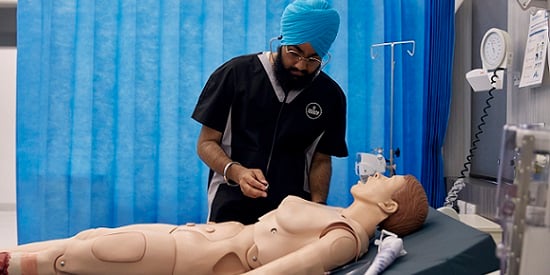 More like this
Media release
Faculty of Science Engineering and Built Environment, School of Engineering, School of Medicine, School of Nursing and Midwifery, School of Information Technology, School of Life and Environmental Sciences