Hayley Millar Baker survey exhibition featured at the Deakin Art Gallery
Media release
13 April 2022
Opening this week at the Deakin University Art Gallery is the exhibition There we were all in one place an early career survey of cross-cultural artist Hayley Millar Baker (Gunditjmara, AU). The project is developed and curated by Stella Rosa McDonald, Curator and Manager of the University of Technology Sydney, Gallery and Art Collection. The Deakin University Art Gallery is the first venue for this incredible exhibition which later tours to the University of the Sunshine Coast (Queensland) and the Flinders University Muesum of Art (South Australia).
Hayley Millar Baker is a significant First Nations artist and cultural leader. She has participated in numerous major national and international exhibitions such as the upcoming project Ceremony, The 4th National Indigenous Art Triennial, The National Gallery of Australia, Canberra (2022) and recently, Vantage Point Sharjah 9, Al Hamriyah Studios, Sharjah, United Arab Emirates (2021). Her work is also held in many public collections including: the Australian War Memorial; The City of Melbourne; Deakin University Art Collection; Horsham Regional Art Gallery; Melbourne Museum; Monash University Art Collection; Shepparton Art Museum (SAM); State Library of Victoria; University of New South Wales (UNSW); University of Technology Sydney (UTS) and the Warrnambool Art Gallery.
From 2016 to 2019 Hayley Millar Baker produced five photographic series. Made almost exclusively in black and white, the photographs use historical reappropriation and citation, in tandem with digital editing and archival research, to consider human experiences of time, memory and place. Millar Baker's layered photographic assemblages affirm Aboriginal experience and culture within the Australian Imaginary to form a complex image narrative of place, family, identity and survival. Her work is informed by her Gunditjmara and cross-cultural heritage, grounded in research of the historical archive, and guided by a non-linear form of storytelling that sees past, present and future as an unbroken continuum. There we were all in one place brings these five bodies of work together for the first time to consider the ways in which Millar Baker uses photography and storytelling to re-author history and assert the authority of memory and experience across generations. As curator, Hetti Perkins explains in her catalogue essay, "Girl, Interrupted", published by UTS, 2021:
"Millar-Baker's encrypted images purposefully elude easy categorisation or typecasting; they are cinematic, documentary, archival, and surreal still lifes. In much the same way, the lives of contemporary Aboriginal people resist stereotyping or pigeonholing... In constructing dioramas of the past, Millar-Baker re-asserts her place in contemporary Australia as a Gunditjmara woman and emerges as the architect of her own identity."
The exhibition is accompanied by a learning experience developed by the artist, curator and leading educational specialist Emily McDaniel, currently Director, First Nations at Powerhouse Museum. Hayley Millar-Baker: There we were all in one place opens April 5 and continues until 15 May 2022.
Interviews with the artist and curator available by request.
WHAT: Hayley Millar Baker: There we were all in one place exhibition curated by Stella Rose McDonald. Free entry.
WHEN: Tuesday 5 April to Friday 15 May 2022.
WHERE: Deakin University Art Gallery, Building FA, Melbourne Burwood Campus, 221 Burwood Highway, Burwood. Gallery hours: Tuesday to Friday, 10am to 4pm.
Image caption:
Hayley Millar-Baker
Untitled 8 (I'm the Captain Now) 2016
inkjet on cotton rag
image © and courtesy of the artist and Vivien Anderson Gallery, Melbourne.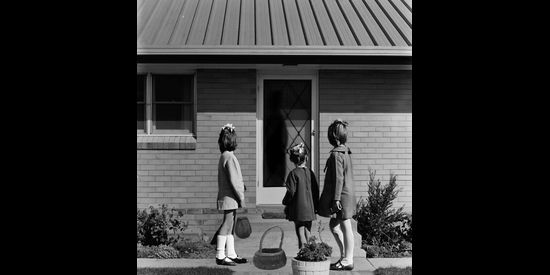 More like this
Media release
Faculty of Arts and Education, School of Communication and Creative Arts