Humble vitamin C tablet key to Deakin diabetes breakthrough
Media release
11 February 2019
A new study from Deakin University has found that taking 500mg of vitamin C twice daily can help those with type 2 diabetes by lowering elevated blood sugar levels across the day and minimising spikes in blood sugar after meals.
The randomised cross-over study, recently published in the journal Diabetes, Obesity and Metabolism, also found vitamin C lowered blood pressure in people with type 2 diabetes, suggesting benefits for heart health too.
Lead researcher Associate Professor Glenn Wadley, from Deakin's Institute for Physical Activity and Nutrition, said the results may help the 1.2 million Australians currently living with type 2 diabetes.
"We found that participants had a significant 36 per cent drop in the blood sugar spike after meals. This also meant that they spent almost three hours less per day living in a state of hyperglycaemia," Associate Professor Wadley said.
"This is extremely positive news as hyperglycaemia is a risk factor for cardiovascular disease in people living with type 2 diabetes.
"We also found that the proportion of people with hypertension halved after taking the vitamin C capsules, with both their systolic and diastolic blood pressure levels dropping significantly."
Associate Professor Wadley said the dose of vitamin C used in the study was about 10 times the normal dietary intake and readily available from most health food stores.
"Vitamin C's antioxidant properties can help counteract the high levels of free radicals found in people with diabetes, and it's encouraging to see this benefits a number of the disease's common comorbidities, such as high blood pressure," he said.
Associate Professor Wadley said diabetes was a fast growing problem in Australia, with more than 100,000 Australians developing diabetes in the past year.
"While physical activity, good nutrition and current diabetes medications are standard care and very important for managing type 2 diabetes, some people can find it tough to manage their blood glucose levels even with medication," he said.
"We need to find new ways to help people with type 2 diabetes reduce the incidence and severity of diabetic complications and improve their quality of life.
"For people living with type 2 diabetes, vitamin C could be a potentially cheap, convenient and effective additional therapy, used in addition to their usual anti-diabetic treatments to improve glycaemic control."
This study was funded by a grant awarded by the Diabetes Australia Research Trust.
Previous research by Associate Professor Wadley found that vitamin C works to counteract free radicals and improve the disposal of blood glucose in people with type 2 diabetes. This is due to vitamin C's known antioxidant properties, which improve the capacity of the muscle to remove the by-products of energy expenditure that interfere with insulin's actions.
Associate Professor Wadley recommends people with type 2 diabetes talk to their doctor about taking vitamin C alongside current medications.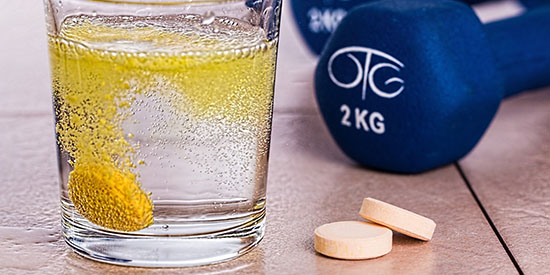 More like this
Media release
Faculty of Health, School of Exercise and Nutrition Sciences
Institute for Physical Activity and Nutrition (IPAN)