Job services shakeup must better engage employers to bring benefit
Media release
28 June 2022
The government's new 'Workforce Australia' offers employers the opportunity to access an untapped market to address current workforce shortages, according to a Deakin University employment services and workplace inclusion expert.
Workforce Australia is replacing 'jobactive' at the beginning of July to encompass all mainstream employment services delivered by the Federal Department of Employment and Workplace Relations to support more Australians into work.
Deakin Business School Professor Jo Ingold said the evidence showed only a tiny fraction of employers are using these services. Just 4 per cent of Australian employers were using the jobs services system in 2018, down from 18 per cent in 2007.
Critically, Professor Ingold said employers had long been neglected in the delivery of job services. She said current workforce shortages offered a golden opportunity for job services to show real value to employers and help them think differently to attract staff.
"We have a massive skills shortage, there's lots of government investment in skills and employment, and two million Australians who could be working or would like to work more. We need to match all this up," she said.
"Recruitment is costing employers a lot of time and money and, especially in the current environment, publicly funded employment services offer alternative and valuable support.
"But to make this work in the long run, we need to move away from transactional engagement, where a job seeker is simply matched with an employer, to a more relational engagement, where providers are engaging with employers to better understand what their needs are and how simple workplace adjustments might help them access this untapped workforce."
Under Workforce Australia's new model, jobseekers assessed as 'job ready' will be provided with online support to find employment, while those who need more targeted assistance will receive support from service providers in their community. Several new service providers are entering the market as part of the changeover, promising a more holistic approach.
Professor Ingold's research in Australia, the UK and Denmark shows long-term success is driven by strong inter-personal relationships between service providers and employers and is hampered by competition between providers.
"Providers are no longer going to be dealing with the most job ready, so there is an even greater importance on building those strong relationships. They must provide a better, tailored service to employers and sometimes this involves collaborating with competitor providers, or 'co-opetition'," Professor Ingold said.
'"There is a really positive opportunity for providers to work with employers in not just meeting what employers think they need but helping them diagnose where the issues are in recruiting and keeping valuable staff."
Professor Ingold said there were several simple but effective changes that service providers could implement with employers to help them be more inclusive of a variety of jobseekers, particularly those who may face extra barriers to work, such as older people, young people, people with disabilities, sole parents, or Indigenous Australians.
"A large retail employer that normally hires online might agree to take some applications outside their online portal. If you have an interest in the job, you can come along in-person instead, this shows motivation to work," she said.
"Many organisations are held back by their own processes in attracting staff. A call centre could simplify their selection process to start with an informal individual or group conversation. This takes away some of the daunting parts of the interview process, which can act as a barrier, while allowing prospective employers to assess the soft skills, behaviours and attitudes that are important, for example, in customer-facing roles.
"Providers can also encourage employers to shape jobs and workplaces to be more appealing to jobseekers. They could flex shift patterns for people with caring responsibilities or work with employers to accommodate different disabilities in their workplace.
"It's going to be challenging, but it's a fantastic opportunity to shake up hiring. We can do things differently and benefit from a diverse talent pool in Australia."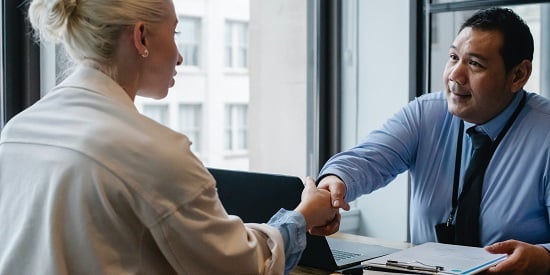 More like this
Media release
Faculty of Business and Law, Deakin Business School
Advancing society, culture and the economy