New Deakin study finds sea urchins major culprits in CO2 emissions
Media release
12 February 2020
Native sea urchins pose a much greater threat to local ecosystems than first thought, with new Deakin research showing the spiky critters are responsible for releasing trapped carbon dioxide back into the atmosphere.
The new study into the impact of seagrass loss caused by urchin overgrazing shows how the destruction of seagrass root systems can potentially lead to erosion and increase the risk of climate change, by eliminating a "globally important carbon sink".
Lead author on the study, Dr Paul Carnell from the Centre for Integrative Ecology within Deakin's School of Life and Environmental Sciences, said the full damage of urchins on underwater ecosystems had been underestimated.
"Seagrasses are among Earth's most efficient ecosystems for trapping carbon, but they're in global decline due to changes in ocean temperatures, pollution and overgrazing by creatures such as sea urchins," Dr Carnell said.
"If left undisturbed, carbon trapped by seagrass sediments can remain buried for thousands of years. The remarkable capacity of seagrass ecosystems to naturally trap and bury carbon makes them an important element in regulating climate change.
"Unfortunately, seagrass is also one of the most threatened ecosystems on the planet, declining at 7 per cent per annum globally, and it's estimated those current declines could release up to 299 million tonnes of carbon back into the atmosphere."
Using aerial and sonar mapping, as well as 3D reconstructions and soil carbon measurements, Dr Carnell and his team spent three years monitoring the impact of urchin overgrazing on a 27,000 sqm seagrass meadow in South Gippsland's Nooramunga Marine and Coastal Park.
"We found overgrazing of seagrass resulted in erosion of up to 50 cm of topsoil – causing the loss of up to 8100 cubic metres of carbon-rich sediment," Dr Carnell said.
"Our study shows large-scale loss of seagrass by urchin grazing can reduce sedimentary carbon stocks by up to 46 per cent. In this case, seagrass loss potentially released more than 100 tonnes of CO2 equivalents in this one area alone.
"Although individual urchin overgrazing events may only affect small local areas, the cumulative effects from the rising number and extent of urchin 'barrens' could have large-scale consequences for vital carbon storage in seagrass ecosystems. We have very limited data on the condition and area covered by seagrass from year to year, so it's hard to keep track of what we may be losing."
Dr Carnell said sea urchin culling was now being carried out in Nooramunga by Parks Victoria, with urchin fishing permits also being issued by the Victorian Fisheries Authority to further control the population.
"The problem was originally identified by local fishers who were concerned about the impact overgrazing would have on their activities. Given that seagrass restoration is extremely expensive, protecting existing habitats is vital, not just for carbon storage, but also for the range of ecosystem services they provide, like fisheries," Dr Carnell said.
Dr Carnell's full research "Overgrazing of Seagrass by Sea Urchins Diminishes Blue Carbon Stocks" has been published in the Ecosystems scientific journal with Deakin co-authors Associate Professor Peter Macreadie and Associate Professor Daniel Ierodiaconou, as well as Dr Trisha Atwood from Utah State University.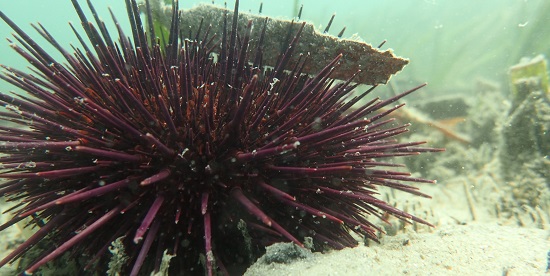 More like this
Media release
Faculty of Science Engineering and Built Environment, School of Life and Environmental Sciences
Centre for Integrative Ecology (CIE)
Enabling a sustainable world