New Deakin study shows cycling may be good for your spine
Media release
04 September 2018
In a world-first study, published in Medicine and Science in Sports and Exercise, Deakin researchers investigating potential risk factors for spinal pain have found cycling may in fact be associated with beneficial changes at the spine.
Until now, cycling had been associated with higher risk of back pain and was thought to be detrimental for the spine.
For the first time ever, researchers undertook a detailed analysis of the spine structure of a group of 18 high-volume cyclists who cycle more than 150 km per week, and compared this to a group of 18 healthy but physically inactive people, all who had no history of spinal disease.
Associate Professor Daniel Belavy from the Institute for Physical Activity and Nutrition at Deakin University, said that they found, in contrast to the established opinion, that cyclists actually had 'better' spines.
"We found that high-volume cyclists had better intervertebral disc tissue quality than otherwise healthy, but non-sporting, people," Associate Professor Belavy said.
"This included beneficial adaptations in the muscle of the spine, with larger muscles and less fat in the high-volume cyclists, compared to the non-sporting group. The cyclists also had better muscle endurance.
"This could mean that cycling is in fact not detrimental to the spine; rather, cycling by itself is a safe, if not beneficial, activity for the spine."
In Australia, approximately 17 per cent of the population participates in cycling, either as a mode of transportation, a leisurely pursuit or as a competitive sport.
While approximately half of all cyclists experience low back pain, until now there has been limited study of changes to spine tissue due to cycling.
"Despite previous studies that have reported higher than average prevalence of back pain in cyclists, the high-volume road cyclists in the trial showed no problems in their spine," Associate Professor Belavy said.
"It is important to note that intervertebral disc degeneration is associated with higher incidence and severity of low back pain, so the message from this study is that cycling may be a way to help to keep your spine healthy."
Link to study:
https://journals.lww.com/acsm-msse/Abstract/publishahead/Beneficial_Intervertebral_Disc_and_Muscle.96813.aspx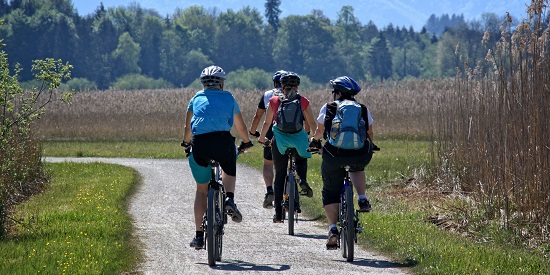 More like this
Media release
Institute for Physical Activity and Nutrition (IPAN)
---
Related News
Do kids get enough time to eat their school lunch?
Most primary school students are being given just ten minutes to eat lunch, even though many parents and teachers agree this is not enough time for children to finish eating the food in their lunchbox.