New grant to strengthen and diversify humanitarian leadership in crises
Media release
02 November 2023
A new Centre for Humanitarian Leadership (CHL) initiative will enable emerging humanitarian leaders in Central and West Africa to gain access to a suite of leadership training opportunities.
The Diverse Leadership in Crises project aims to support humanitarian staff in Benin, Burkina Faso, Niger and Senegal to improve their skills for potential leadership and decision-making roles. The U.S. Agency for International Development's Bureau for Humanitarian Assistance (BHA) awarded USD $2 million in funding to Action Against Hunger, which is collaborating with CHL to implement the project.
CHL Director Associate Professor Mary Ana McGlasson said the funding (worth approximately AUD $3.1 million) will allow CHL to further its ambition to lead and influence change within the humanitarian system by delivering transformational education programs and policy-relevant research.
"With a focus on women and local leaders in Central and West Africa, the Diverse Leadership in Crises project will empower and further develop a new generation of humanitarian leaders who can help transform the system and contribute to the aid localisation agenda," Associate Professor McGlasson said.
Tobias Stillman, Director of Technical Services and Innovation at Action Against Hunger, said; "With climate change, inequality, and conflict fuelling hunger and other health crises in Central and West Africa, we need a strong pipeline of future leaders to create a brighter tomorrow."
The 18-month grant covers the following specific activities between 2023–2025:
One student cohort of the Diplôme d'Études Supérieures en Leadership Humanitaire, (DESLH), a post-graduate certificate accredited by Deakin University, for 60 students
Six student cohorts of the innovative short courses of the Programme de Leadership en situations de Crise (Crisis Leadership Program), for 180 students
Three Introduction to Mentoring workshops
French-language events for the local humanitarian sector and networking events for alumni
Research exploring leadership in humanitarian crises and mentoring in local contexts
The publication of the bilingual open access journal, the Humanitarian Leader/Le Leader Humanitaire.
BHA has previously supported CHL to deliver six cohorts of the DESLH, with 208 students having graduated from the course since 2017.
The Diverse Leadership in Crises Partners:
The U.S. Agency for International Development administers the U.S. foreign assistance program providing economic and humanitarian assistance in more than 80 countries worldwide.
Centre for Humanitarian Leadership (CHL), a partnership between Deakin University and Save the Children Australia, is transforming humanitarian leaders and influencing how humanitarian organisations, and the system, respond to the increasingly complex humanitarian environment.
Action Against Hunger innovates solutions, advocates for change, and reaches 28 million people every year with proven hunger prevention and treatment programs across 55 countries.
Share this story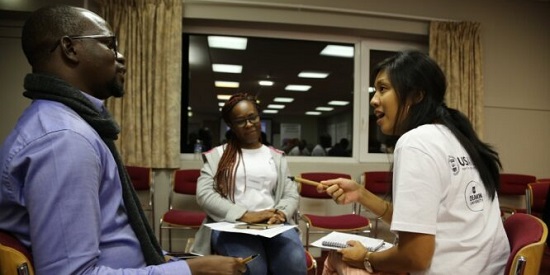 More like this
Media release
Faculty of Arts and Education