New guide launched to help refugees into the workforce
Media release
12 March 2019
Deakin University researchers have launched a first-of-its-kind guide to help Australian employers hire refugees and asylum seekers.
The guide's release coincides with the unveiling of Deakin's new Centre for Refugee Employment, Advocacy, Training and Education (CREATE), based within the Faculty of Business and Law.
The 10-page guide helps simplify the process for employers who may be unsure of the different visas and work rights held by those with a refugee or asylum seeker background.
It's based on the findings of a study conducted by researchers from the new centre, in conjunction with Monash University and Australia National University, which examined why some organisations actively employ people from a refugee background and others do not.
Deakin Vice-Chancellor Professor Jane den Hollander AO said the flagship project for Deakin CREATE was an important example of how universities could support humanitarian migrants to rebuild their careers after fleeing their home country.
"Globally, we are facing the greatest humanitarian crisis of our time, and we have a responsibility to do everything we can to help," Professor den Hollander said.
"Deakin is committed to providing access to higher education for students seeking asylum or from refugee backgrounds residing in Australia, who otherwise could not afford the cost of university.
"One way we do this is through our Sanctuary Scholarship program, which provides tuition fees, housing and study for asylum seekers on bridging, temporary protection or regional five-year visas.
"I know through the work of Deakin CREATE we will continue to support people from a refugee background to obtain meaningful employment and access vocational training and education."
Deakin CREATE director Professor Alexander Newman, Associate Dean (International) at Deakin's Faculty of Business and Law, said the new guide aimed to help reduce barriers to employment for one of Australia's most vulnerable groups.
"For many organisations the issue of hiring refugees seems too complex given the difficulties faced in verifying qualifications and determining work rights associated with different visa categories," Professor Newman said.
"Many organisations assume hiring refugees is fraught with challenges and barriers, when, in fact, the large majority of people from a refugee and asylum seeker background are entitled to work in Australia.
"We hope this guide can highlight practical steps that any Australian organisation can take to employ those recently arrived in Australia, either as humanitarian migrants or those who have sought asylum on our shores."
Professor Newman said employers could use a free online service called VEVO to check a person's visa status and conditions.
"I really encourage employers to rethink their hiring practices to support the employment of refugees," he said.
"Organisations have told us that working through specialist employment agencies, such as Career Seekers and Refugee Talent, as well as support groups similar to what we're setting up with CREATE, has allowed them to better integrate people from a refugee background into their workforce."
Professor Newman said organisations could obtain significant benefits from employing people from a refugee background, an often overlooked pool of talent.
"They are usually skilled and capable individuals who hold qualifications and practical experience in their home country. They are highly motivated to learn and build up practical experience in Australia," he said.
"People with a refugee background often bring new ideas and perspectives into an organisation too. Research on diversity suggests that more diverse workplaces typically have higher levels of innovation, productivity and staff retention.
"Ultimately, helping people from these groups to integrate into the workplace, as well as supporting them to re-establish their livelihood, builds a stronger community, locally and internationally."
To access the employer's guide, visit deakincreate.org.au.
Asylum seeker Ali's story
Ali (a pseudonym) fled Afghanistan to Australia in 2013 and applied for protection. He was a boat arrival and is only eligible for temporary protection. He remains on a bridging visa with full work rights, as his application is yet to be assessed; however, he has applied for a Safe Haven Enterprise Visa. He lives in Australia with his wife and has an Australian-born daughter.
Ali previously completed a Bachelor of Computer Applications in Afghanistan and more recently an MBA in India. His past work experience spanned IT and Operations.
Since arriving in Australia the only employment he was able to secure was casual work in a small computer shop, owned by an Afghan community member. While Ali made multiple applications for professional roles, he was never shortlisted for an interview, with common feedback that he had no local experience. Employers were also often uncertain about his legal right to work, as he was on a bridging visa.
Ali engaged Career Seekers, a non-profit organisation supporting refugees seeking professional careers, and secured a 12-week internship with a financial services company. The employer was happy with his performance and he was offered a further 12-week extension and then a 12-month contract.
"I am very lucky that I am in this great country and I feel very humbled to have been given this fantastic opportunity," Ali said.
"I remember my first day… everyone was so fast. I was a bit stressed out and confused of how to learn everything. But thanks to all the support and help, I have learned a lot and this makes me feel more confident."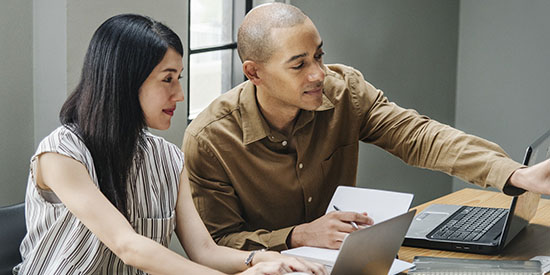 More like this
Media release
Faculty of Business and Law, Deakin Business School