New Honorary Fellows strengthen Deakin's Indigenous design thinking
Media release
18 March 2022
The appointment of two new Honorary Fellows of Design will embed Indigenous knowledge systems and design thinking into Deakin's teaching and learning programs and research activities.
Jefa Greenaway and Alison Page are leaders in their fields of Indigenous design, architecture and filmmaking and their appointment will also create collaborative opportunities with other Faculties and Schools across Deakin including the School of Architecture and Built Environment.
Professor Vanessa Lemm, Executive Dean, Faculty of Arts and Education, said the appointments of Ms Page and Mr Greenaway would provide the university with access to vital cultural knowledge and advice.
"Building our Indigenous knowledge capacity is important as we move to develop Indigenous Knowledge Minors across courses in the Faculty of Arts and Education," Professor Lemm said.
Professor Matthew Delbridge, Head of School Communication and Creative Arts, said as high-profile Indigenous leaders, Ms Page and Mr Greenaway have a proven track record of embedding traditional cultural knowledge into contemporary design.
"They both share a quest for change which uses design to respectfully recalibrate the Australian identity as the home of the world's oldest continuous living cultures," Professor Delbridge said.
Both Ms Page and Mr Greenaway have been involved in the development of the Deakin-created, Indigenous Design Charters. Ms Page consulted on its development and facilitated a workshop at the Koorie Heritage Trust. Mr Greenaway co-authored the Indigenous Charter with Dr Russell Kennedy, Associate Professor Meghan Kelly and Professor Brian Martin (Bundjalung, Muruwari and Kamilaroi).
They are also working with Deakin academics on current Indigenous themed research projects including the Melbourne and Cranbourne Botanical Gardens wayfinding project, The INBETWEEN exhibition at Nyaal (part of Geelong Design Week), Earth Above Science Works Planetarium project and National Gallery of Victoria Indigenous Design protocols project.
Their appointment will be officially announced at the launch of the INBETWEEN Exhibition at Nyaal, Waurn Ponds campus, Friday, 25 March 2022 at 3.00pm.
About Alison Page and Jefa Greenaway:
Alison Page is a Walbanga and Wadi Wadi woman and award-winning designer and film producer whose career links Indigenous stories and traditional knowledge with contemporary design. Inducted into the Design Institute of Australia (DIA) Hall of Fame in 2015, Ms Page's creative practice explores links between cultural identity, art and the built environment. She was founding CEO of the Saltwater Freshwater Arts Alliance, founder of the National Aboriginal Design Agency and a member of the expert panel for the federal government's Constitutional Recognition of Indigenous People. A regular panellist on the ABC TV show, The New Inventors, she has also published with Paul Memmott the seminal design publication, Design, building on Country.
Jefa Greenaway is a Wailwan and Kamilaroi man and champion of Indigenous led design thinking for more than 25 years. An award-winning, Melbourne based architect he is director of Greenaway Architects and works as a Knowledge Broker and Senior Lecturer at the University of Melbourne. His practice includes projects such as the Lowitja Institute, the Koorie Heritage Trust, design principles for Aboriginal Housing Victoria and the Wilin Centre at the VCA and the new Student Precinct, as part of a Lyons lead consortia team at the University of Melbourne. Mr Greenaway is a regular design communicator on ABC Radio, podcasts and media articles. He sits on various boards, advisory panels, and government committees and is the co-founder of Indigenous Architecture and Design Victoria. In 2020, he was Inducted into the Design Institute of Australia (DIA) Hall of Fame and last year co-curated the Australian Pavilion exhibition at the Venice Architecture Biennale.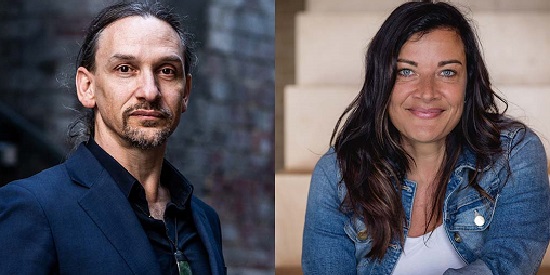 More like this
Media release
Faculty of Arts and Education, School of Communication and Creative Arts, School of Humanities and Social Sciences, School of Education