New infrastructure to increase drinking water savings at Deakin University, Waurn Ponds
Media release
07 November 2023
Barwon Water and Deakin University have deepened their partnership after signing a funding agreement to extend Barwon Water's Class A recycled water supply to Deakin's Waurn Ponds campus and save an estimated 60 million litres (ML) of drinking water per year.
The construction of a 6.2km gravity pipeline from Armstrong Creek will enable recycled water to replace potable water, mainly for irrigation at the Waurn Ponds campus.
The agreement will see Barwon Water's on-the-ground work begin next year on the pipeline that will deliver 60 ML per year of recycled water to the campus as part of Deakin's Integrated Water Management (IWM) project.
The IWM project is a key aspect of Deakin University's sustainability commitments and vision to establish its Waurn Ponds campus as a living laboratory for applied research and teaching.
The IWM project aims to respond to significant water-related challenges like flooding, securing an alternative water supply, protecting and restoring waterways near the campus, and embracing Traditional Owner values.
Deakin University's acting Director of Sustainability, Zoe Roloff, said the pipeline was the next step in a series of exciting initiatives already underway at the Waurn Ponds campus.
"The project began in 2022 by converting the network of ponds on campus into a constructed wetland system, which will see increased water quality and biodiversity along the waterway and into Waurn Ponds Creek.
"As the climate changes and we continue to grow, we must manage our valuable water assets deliberately. The pipeline and supply of recycled water is a key element that will help us enhance our environment's sustainability while supporting the future needs of the campus."
Deakin recently installed a recycled water pipeline on campus and is ready for the Barwon Water pipeline connection, due for completion in 2024.
Barwon Water General Manager Planning, Delivery and Environment Seamus Butcher said he was pleased to support Deakin's continued progress on its IWM project, which aligns with both organisations' sustainability strategies and strong commitments to contribute to the communities in which they belong.
"Integrated water management focuses on a vision for integrated, collaborative water cycle management that enables sustainable environmental, social, cultural and economic prosperity for the Barwon region.
"In response to the IWM project for the campus, Barwon Water has been working with Deakin University to investigate the extension of a Class A recycled water pipeline from the nearby Armstrong Creek Growth area to the Waurn Ponds campus to provide a substitute for potable water used mainly for irrigation on campus.
"Constructing this recycled water pipeline through Waurn Ponds to Deakin University should result in an annual potable water saving of up to 60ML, helping Barwon Water take another step towards achieving its Strategy 2030 goal to be zero waste and maximise the productive use of recycled water."
Mr Butcher said Barwon Water was in the functional design stage for the 6.2km recycled water gravity pipeline from Armstrong Creek to Deakin University.
The recycled water pipeline could deliver up to 630 ML/year to customers along the pipeline route, allowing for future opportunities for local industry, businesses and farms to save on potable water use in the area.
Deakin's IWM project includes a $1 million investment from the Victorian Government through the $350 million Victorian Higher Education State Investment Fund (VHESIF).
Deakin's VHESIF program represents one of the largest investments in Deakin research in a decade, with $133 million combined funding from Deakin University and the Victorian Government to support eleven major projects across five locations.
For more information on Class A recycled water and its approved uses, see https://www.barwonwater.vic.gov.au/water-and-waste/recycled-water/class-a
Share this story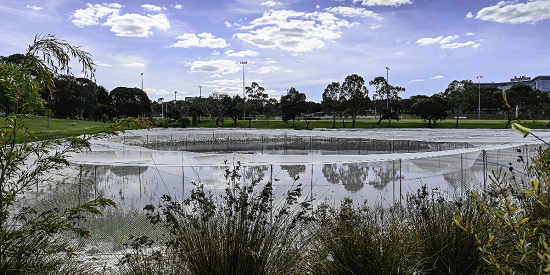 More like this
Media release