Nuts about you: daily handful a brain booster for older people
Media release
14 June 2021
Older people who eat a small handful of nuts each day are helping to keep their minds healthy, new research has shown.
The study led by Dr Sze-Yen Tan from Deakin University's Institute for Physical Activity and Nutrition (IPAN) found significant cognitive benefits for people aged over 60 who ate a half-to-one serving of nuts each day.
For their research, the team analysed the nut intake and cognition of 1814 participants aged over 60 years using data from the National Health and Nutrition Examination Surveys (NHANES) in the United States.
Dr Tan said the study showed that older people who ate a half-to-one serving of nuts each day, or between 15 and 30 grams, had better cognitive function than those who did not.
"Eating a handful of nuts each day is a simple dietary strategy that improves cognitive performance for older adults, among many other already well-established health benefits," Dr Tan said.
For the study, participants were divided into four groups based on their daily nut consumption: non-consumers; low intake (less than half a serving of nuts or between 0.1 and 15.0g); moderate intake (half to one serving or between 15.1 and 30.0g); or those who exceeded current nut recommendations (more than one serving or 30g+).
Researchers then compared cognitive function, including immediate and delayed recall, verbal fluency, processing speed and attention across the groups.
Interestingly, nut consumption beyond the recommended daily intake of 30 grams a day did not further improve cognitive performance compared to the moderate intake group.
Dr Tan said a single serving of nuts is equivalent to around 20 almonds, 15 cashews, 10 Brazil nuts or 10 walnuts. Nuts are also a good source of protein, good fats, fibre, vitamins and minerals.
But do the findings mean we can start reaching for the jar of peanut butter in search of a snack-time brain boost?
"We included all tree and ground nuts in our study, in both whole and butter forms and because all nuts have similar nutrient profiles, the findings are likely to be applicable across all nut types and forms," Dr Tan said.
Dr Tan's study was funded by the INC International Nut and Dried Fruit Council.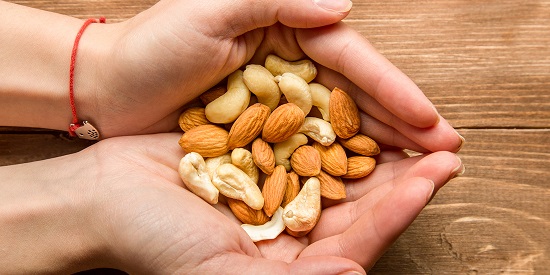 More like this
Media release
Faculty of Health, School of Exercise and Nutrition Sciences
Institute for Physical Activity and Nutrition (IPAN)