Performing a tackle more dangerous than being tackled: Deakin research
Media release
17 October 2018
Deakin University researchers have found elite players who injure their shoulders are most likely to cause the damage while performing a tackle, rather than being tackled.
The findings came after Dr Jason Bonacci, from Deakin University's School of Exercise and Nutrition Sciences, examined 72 AFL players with shoulder instability who underwent surgical treatment between 2009 and 2013.
While shoulder sprains and dislocations are the most common upper limb injury in the AFL, little has been known about the causes until now.
Dr Jason Bonacci said his study found the majority of shoulder injuries occurred while the player was performing a tackle, not being tackled.
"Performing a tackle is so dynamic and unpredictable, it's instinctive and very hard to train for to prevent injury," Dr Bonacci said.
Dr Bonacci said despite the injury being quite prevalent, little was known about the management of shoulder instability injuries in AFL players.
"In comparison with other significant AFL injuries, such as Anterior Cruciate Ligament (ACL) injuries, little has been determined about shoulder injuries and their surgical management," he said."
"Yet, shoulder instability injuries occur more frequently and result in only slightly less games missed per season than ACL injuries, according to the 2015 AFL Injury Report."
There was some good news, with the study revealing shoulder injuries in AFL are managed better than other sports.
"The recurrence rate in these AFL players was lower than that previously reported in amateur athletes and other overhead contact sports," said Dr Bonacci.
"A high proportion of AFL players returned to their pre-injury sport level, with 90 per cent returning to AFL level and 92 per cent returning to some level of Australian football.
"Nearly all of the players returned to AFL, so the surgical management is working and the recurrence rates are low."
Dr Bonacci said younger players were at greater risk of re-injury.
"It is possible they just don't have the muscle strength that a seasoned athlete would have, and the strength of supporting structures of the shoulder joint increases with age," he said.
"It could be that perhaps they need a bit longer in the system, a bit more rehab and maybe don't return to AFL level as quickly as more seasoned players."
Dr Bonacci said more attention needed to be paid to younger athletes.
"Younger age is a key risk factor for ongoing problems and recurrent instability can result in early osteoarthritis or cause premature retirement from the sport," he said.
The study Operative shoulder instability injury management in Australian Football League players was also conducted by Professor Richard Page from the Barwon Centre for Orthopaedic Research and Education.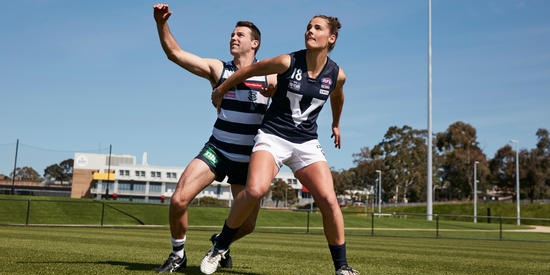 More like this
Media release
Faculty of Health, School of Exercise and Nutrition Sciences