Pollution from farm fires significantly increases blood pressure risk
Media release
14 December 2022
India's notorious agricultural fires, which blanket large parts of the country in pollution from October to December each year, are causing USD 9 billion in annual healthcare costs due to increased rates of hypertension, a new study has shown.
High blood pressure is one of the leading causes of death globally, and the study's lead researcher will next look at how these Indian insights can be used to better understand the health impacts of Australia's ever more frequent bushfires.
Dr Hemant Pullabhotla, a member of Deakin University's Department of Economics and Centre for Disaster Resilience and Recovery, said it was important to have the full picture of how fires impacted people's long-term health.
His research, published in the Journal of Environmental Economics and Management, matched blood pressure readings from nearly 784,000 people across India with satellite data on 1.2 million agricultural fires, wind direction, and local air pollution.
It estimated that the exposure to fires contributes to nearly 14 per cent of India's annual deaths due to hypertension.
Air pollution has been labelled a national emergency in India and is increasingly driven by farm burn-offs.
There have been intermittent bans on the practice, which farmers say is the only cost-effective way they can use to clear their fields after a harvest and prepare for the next sowing. India's supreme court ruled it illegal in 2017 but changing farmers' behaviour has been very challenging.
"We wanted to get a sense of the value of the damages caused by this smoke, because it has a significant health impact for India," Dr Pullabhotla said.
"While the link between air pollution and respiratory illness has long been established, what we show for the first time with this research is the significant impact the pollution generated from agricultural fires can have on people's blood pressure.
"India has the largest number of people in the world living with cardiovascular disease, nearly a fifth of all people with hypertension globally are in India by some estimates.
"Often people think of cardiovascular disease as a lifestyle disease, something suffered by people who have a higher caloric intake and are more sedentary.
"But in India that is not necessarily the case. We see high levels of cardiovascular disease in urban areas, but also in rural areas where people engage in high levels of physical work and have a lower-than-average calorie intake.
"There may be some genetic factors at play here, but our research shows there are significant environmental factors too. Pollution from agricultural fires play a significant part in driving this problem."
Dr Pullabhotla said he hoped his research findings provided a clear economic argument for the Indian government, and governments worldwide, to invest in programs that reduce or eliminate agricultural fires.
More of his research, yet to be published, shows that agricultural fires also have a large negative impact on infant mortality.
"The question always is, how much money should we invest in solving this problem? And what we can present through this research is the dollar figure that the fires have on human health each season," he said.
"Our study shows the economic pay off - billions and billions of dollars - can be much higher than what the government is spending on subsidies to encourage farmers not to burn."
Dr Pullabhotla said the problem was not just limited to India but was of global concern given increases in severe weather events, like wildfires, due to climate change.
"Anywhere in the world where plant material is burnt you will see these effects," he said.
"This is happening with deforestation in places like Brazil and for palm oil plantations in Indonesia. There are also regular patterns of agricultural fires in countries like Mexico where they burn sugar cane crops.
"In Australia, we need to look at this in the context of an increasing number of bushfires. After the Black Saturday fires there was an increase in hospital admissions for cardiovascular ailments, in addition to respiratory illnesses.
"But it's not just large fires that are of concern. What our data shows is that smaller fires still generate lots of smoke and pollution.
"Now we can use new satellite technology to look at even the smallest fires. There is so much burning happening in Australia every day quite close to where people are living, and there doesn't need to be high levels of pollution to have significant effects on human health."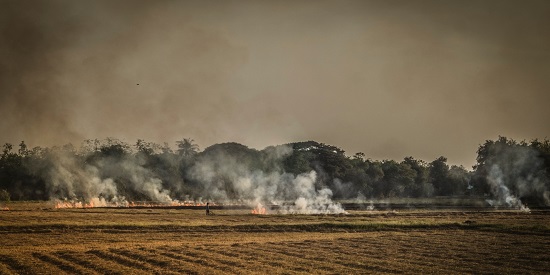 More like this
Media release
Deakin Business School, Faculty of Business and Law
Advancing society, culture and the economy, Improving health and wellbeing, Enabling a sustainable world