Public art project shines light on Melbourne's wastewater infrastructure
Media release
15 March 2023
Melbourne's Western Treatment Plant is again the centrepiece of an ambitious public art project aimed at breaking down the stigma surrounding the city's waste waterways.
Treatment III, taking place from March 17 to April 28, is curated by Deakin University School of Communication and Creative Arts academics Professor David Cross and Associate Professor Cameron Bishop, who have curated the project since its inception in 2015. This year marks the third iteration of the event following a brief pause during the onset of COVID-19.
Professor Cross said the plant's history as a vital piece of Melbourne's infrastructure was traditionally lost on the city's inhabitants who took for granted its day-to-day function.
But he said Treatment III aimed to challenge the stigma associated with the plant and celebrate surrounding communities, with this year's event featuring art, installations, and live performances by more than 20 leading and emerging Australian artists.
"Werribee and its surrounds have a 125-year association with the plant as a valued employer, which has allowed vibrant communities of young families, schools and services to spring up and call Wyndham home," Professor Cross said.
"What many people don't realise is the Western Treatment Plant is also one of the state's most popular spots for birdwatching, with some birds migrating from as far away as Siberia to its wetlands. Treated water is also used on the region's market gardens to grow fresh produce."
Highlights of this year's project include site-responsive art installations, film, sculpture, and performance works staged across locations along the historic Main Sewer Outfall pipeline stretching from Melbourne to Werribee.
Locations include Spotswood and Brooklyn, including the Pumping Station at Scienceworks.
Associate Professor Bishop said a music event staged at a 180-year-old water tower in the now abandoned town of Cocoroc would be a key attraction. Melbourne Water will host sessions to demonstrate the wastewater testing process – including how they tested for COVID-19 during the pandemic.
And guests will have the opportunity to attend a special Sunset to Sunrise showcase (Friday, April 21, from 5pm-10pm, and Saturday, April 22, from 6.30am-6pm) at the Western Treatment Plant, with music, art and performances. This event will celebrate a day in the life of the plant by drawing attention to how wastewater technologies operate, their value to society, and how they contribute to public health.
"This year's event is bigger and better than ever and marks the first time art installations will extend beyond the walls of the Water Treatment Plant to locations along the pipeline," Associate Professor Bishop said.
"We're excited to be shining a spotlight on this important yet underrated part of Melbourne's crucial infrastructure."
Melbourne Water Head of the Western Treatment Plant Alanna Wright said the Western Treatment Plant was an absolute jewel in Melbourne's infrastructure.
"The Western Treatment Plant is where Melbourne's sewage treatment, agriculture and biodiversity meet resource recovery, education and ecotourism. Through an extensive network of interconnected underground pipes and sewers, the plant treats about half of Greater Melbourne's sewage. This project will put an exciting spotlight on the rich history of this special space," Ms Wright said.
A digital launch with artist interviews and artwork previews will be held on March 17, with members of the public invited to tune in online.
Featured artists at Treatment III include Linda Tegg, James Nguyen, Robert Andrew and Zanny Begg, Eugenia Lim, Mick Douglas, Anindita Banerjee, Peter Burke, Fiona Hillary, Georgina Lewis, Edwina Stevens, Rogue Academy and emerging creatives from the Wyndham and Wadawurrung communities.
The project is sponsored by Melbourne Water and held in partnership with Wyndham City Council. It is supported by event partners the Westgate Neighbourhood Fund, Hobsons Bay City Council and Scienceworks.
Treatment III
Dates: March 17 - April 28
Time: Artworks situated across Spotswood and Braybrook will be accessible at various times throughout Treatment III. Artworks situated at the Western Treatment Plant can be experienced at the Sunset to Sunrise showcase on from Friday, April 21, 5pm-10pm, and Saturday, April 22, 6.30am-6pm. Please follow Public Art Commission on social media for the most up-to-date times.
Facebook: https://www.facebook.com/PublicArtCommissionDeakin/
Instagram: https://www.instagram.com/public_art_commission/
Location: Western Treatment Plant, William Thwaites Drive, Cocoroc, and select locations along the waterway between Melbourne and Werribee. Visit event website for further details.
Special event: The Sunset to Sunrise public event celebrating a day in the life of the plant will be held at the Western Treatment Plant, William Thwaites Drive, Cocoroc, on Friday, April 21, 5pm-10pm, and Saturday, April 22, 6.30am-6pm.
Online launch: March 17 (Register here: https://events.humanitix.com/treatment-iii-digital-launch)
Opening event: April 5 (Register here: https://events.humanitix.com/treatment-iii-opening-event)
Event webpage: www.treatment3.org.au
Cost: Free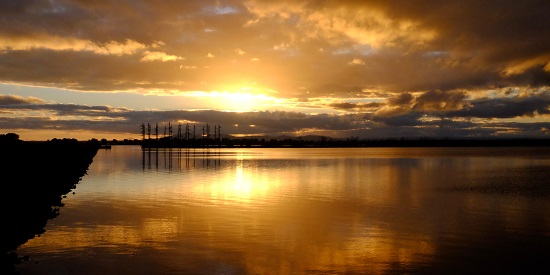 More like this
Media release
Faculty of Arts and Education, School of Communication and Creative Arts