Report reveals camera professionals face systemic inequality and discrimination
Media release
29 July 2022
A new report reveals shocking inequality and discrimination in the Australian screen sector with widespread industry practices driving careers marked by bullying, harassment and discrimination for camera professionals, with significant negative mental health consequences.
The ground-breaking report, A Wider Lens, the first comprehensive analysis of this workforce done anywhere in the world, was commissioned by the Australian Cinematographers Society (ACS) and carried out by Deakin University.
Findings from an analysis of industry-reported production data reveal that of all Directors of Photography (DOPs) on feature film and TV drama shot in Australia (between 2011 and 2019), 9 per cent were women and 91 per cent were men.
At first glance the findings seem at odds with the international success of Australian women cinematographers. Of note are Ari Wegner ACS, who was nominated for a 2022 Academy Award for Best Cinematography for Power of the Dog, Mandy Walker ACS ASC who was the DOP on Baz Luhrmann's Elvis, Zöe White ACS who filmed The Handmaids Tale and Bonnie Elliot ACS who was behind the camera on the recent Apple TV+ series, Shining Girls.
Despite their success, systemic barriers remain. A Wider Lens also found that, as budgets grow, the likelihood of a woman DOP being attached to a project decreases. All DOPs on big budget features shot in Australia (over USD 10 million) in the period 2011-2019 were men, and a gender pay gap sees men earn significantly more than women for working on the same types of projects.
A Wider Lens examines the workforce, the work model and the work culture of Australian film and television camera departments. The study pays particular attention to how social characteristics such as gender, age, class, ethno-cultural identity, sexuality, disability, and caring responsibilities overlap and interact to shape career paths and work experiences.
President of the Australian Cinematographers' Society Erika Addis said the report was critically important in shaping the future workforce of the Australian screen industry.
"While it specifically references camera departments, many of its findings are likely reflective of the broader industry and, while its findings are shocking, it also provides a roadmap forward," Ms Addis said.
The report found that camera professionals routinely experience multiple forms of discrimination, harassment and bullying when accessing work and doing their jobs. It shows sexual harassment is a routine feature of work for women in Australian cinematography.
In addition to the analysis of industry-reported production data, the report also draws from a large survey of 640 Australian camera professionals.
All of the survey's Indigenous respondents, 87 per cent of the respondents who identified living with a disability, 81 per cent of LGBTIQ+ respondents and 84 per cent of women respondents reported fear of negative career impacts as a consequence of reporting bullying, harassment and/or discrimination.
Sixty per cent of survey respondents reported that work-related stress negatively impacted their mental health.
"Work in camera is high-performance, requiring a highly specialised skill set, and intense concentration for extended periods of time," Ms Addis said.
"Job stress is compounded by a work model where workers are in direct competition with each other for work; where networks and reputations are key; where excessive hours and unpredictable schedules are the norm; and where workers, as freelancers, are largely excluded from social benefits and employment protections."
The report was authored by Dr Amanda Coles and Dr Justine Ferrer from the Department of Management at Deakin Business School, Dr Vejune Zemaityte at Tallinnn University's Baltic Film, Media and Arts School, and Dr Marcus Banks from the University of Tasmania, in consultation with the ACS.
Dr Coles said the Australian screen sector had the opportunity to be global leaders in advancing meaningful change to build a sustainable and innovative screen production industry.
"Focusing on the quality of work and the wellbeing of the workforce is central. Now is the time to invest in Australia's digital and creative workforce future through inclusive sectoral growth, and a wider lens on who counts as key creatives," she said.
The report offers 19 recommendations to advance inclusive future workforce growth, from data collection and reporting, to hiring practices, pay equity, and industry programs to support work-life balance, workforce safety, and wellbeing.
The Executive Summary of A Wider Lens can be found HERE.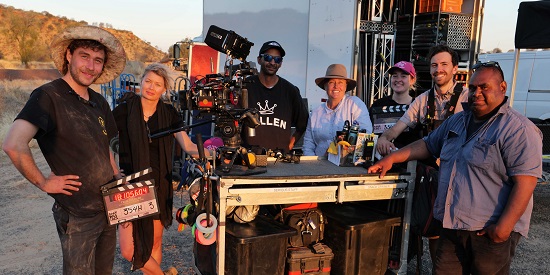 More like this
Media release
Deakin Business School, Faculty of Business and Law