Researchers test new clinical therapy to help young autistic people
Media release
08 August 2023
An Australia-wide clinical trial is investigating whether non-invasive brain stimulation can help alleviate distress sometimes experienced by young autistic people.
The clinical therapy, called transcranial magnetic stimulation (TMS), is already used in the treatment of conditions such as depression but its effectiveness for autism has yet to be widely tested.
Professor Peter Enticott, from the Centre for Social and Early Emotional Development (SEED) in Deakin University's School of Psychology, said the trial was looking to establish whether TMS could be used as a safe and effective therapy for improving social communication, mental health, and quality of life in young people on the autism spectrum.
"Internationally, TMS is already offered in clinical therapies for autism, and several small studies, both in Australia and overseas, have shown it to be safe and effective," Professor Enticott said.
"But this large-scale study will provide the evidence we need to be confident that it can alleviate difficulties that are sometimes associated with autism."
Funded by the Australian Government's Medical Research Future Fund, the research team is looking for trial participants aged between 14-40 years who have a diagnosis of autism.
During the four-week program, participants will undergo 20 short sessions of TMS. Assessments both before and after the therapy period include various psycho-social and biological measures.
"We will be testing changes in social relationships, mood, anxiety, and life satisfaction," Professor Enticott said.
Professor Enticott said there were a diversity of views about autism and some people were strongly against clinical interventions, arguing for better supports for autistic people.
"We agree that improved support for autistic people is critical, along with changing societal demands and expectations," Professor Enticott said.
"This study does not look to 'cure' or eliminate autism. Rather, it will assess a clinical therapy that could be offered to autistic people who are seeking additional help with social challenges and support for improving mental health and life satisfaction."
A community reference group involving individuals from the autism community, including autistic people and allies, provides input to the trial.
The study includes researchers from Deakin University, Monash University, Children's Health Queensland Hospital and Health Service, The University of Queensland, The University of Sydney, The University of Adelaide, The University of Western Australia, Telethon Kids Institute and Murdoch University.
More information on the study can be found on the trial website www.tmsautism.com
Share this story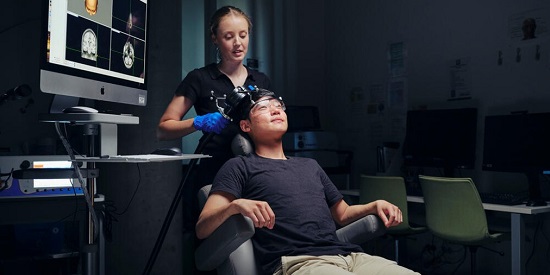 More like this
Media release
Faculty of Health, School of Psychology
Centre for Social and Early Emotional Development (SEED)