Shark populations recover better in human exclusion zones: Deakin study
Media release
01 February 2019
Decades after their implementation, no-take marine reserves are coming up short in their ability to nurture the Great Barrier Reef's shark populations back to natural levels, according to new research from a Deakin University ecologist.
The research, published today in the journal Frontiers in Ecology and the Environment, found that after decades of protection, shark populations on the Great Barrier Reef were only properly recovering in human exclusion zones.
But traditional 'no take' marine reserves - where humans can enter but must not fish or remove anything they find - were failing to rebuild shark populations back to natural levels.
Researcher Dr Justin Rizzari, a Lecturer in Fisheries Science at Deakin's School of Life and Environmental Sciences, said shark numbers were more than double in human exclusion zones compared to traditional no-take marine reserves, despite fishing being banned in both areas.
"The results indicate that restoration of near-natural shark populations requires several decades, but more importantly these results demonstrate the superior performance of human exclusion zones at rebuilding shark populations," Dr Rizzari said.
"This is important as no-take reserves are firmly advocated as an effective tool to rebuild over-exploited fish and shark populations and to restore natural ecosystems."
Dr Rizzari said no-take reserves are often used as a baseline for what a healthy ecosystem should look like, but this research revealed that perceptions of what constitutes an undisturbed, healthy ecosystem may need to be revaluated.
As part of his study, Dr Rizzari looked at the recovery of shark populations in 11 no-take reserves and compared it to data from 13 no-entry reserves over the 20 to 40 years of their implementation. This was also compared to data from 10 nearby reefs open to fishing.
Dr Rizzari said the sharks found around the Great Barrier Reef - which include grey reef sharks, blacktip reef sharks and whitetip reef sharks - were an essential indicator of a healthy ecosystem, and an important part of the food web.
"The removal of large predators, such as sharks, can have a significant effect on animals all the way down the food chain, as well as the environment they live in," he said.
Dr Rizzari said illegal fishing was the most plausible explanation for the difference in populations, with recent research showing substantial poaching levels within the Great Barrier Reef Marine Park.
"Although sharks are seldom targeted by fishers on the Great Barrier Reef, they are frequent bycatch, and an unknown but potentially high proportion of sharks die after release due to injuries," he said.
"It's far easier to police poaching in exclusion zones. Evidence of fishing is needed to prosecute in no-take reserves, but is not needed in exclusion zones, so the prevalence of illegal fishing is much lower in these areas."
But Dr Rizzari said improving the effectiveness of no-take reserves was not easy.
"There's the option to increase exclusion zones, although that would be publically unpopular," he said.
"Ideally there could be an increase in enforcement in no-take reserves, but that has funding limitations. There's also the option to increase penalties, but these are often ignored if people don't think they'll get caught."
Dr Rizzari said one straight-forward area of focus could be increased education for behavioural change.
"We want people to understand where they can and can't fish. But also to have a better understanding of why that's the case, and the implications of overfishing," he said.
"Fishing is regarded as an acceptable use of natural resources, provided that it is undertaken responsibly and sustainably."
Co-researcher Dr Ashley Frisch, from James Cook University's ARC Centre of Excellence for Coral Reef Studies, said recent research estimated that between 3 and 18 per cent of recreational fishers engaged in illegal fishing.
"But poaching doesn't have to be at a high level for shark populations to decline, as these species are slow growing and reproduce at a low rate," he said.
"With better compliance, no-take reserves may yield even better conservation results than previously seen, but full recovery, including of reef sharks, will likely take at least two to three decades."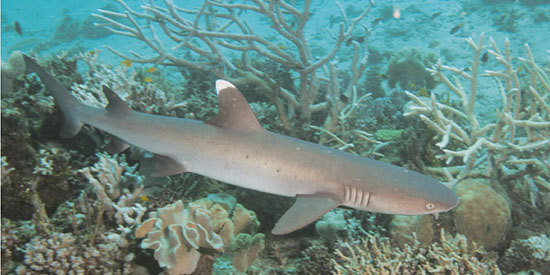 More like this
Media release
Faculty of Science Engineering and Built Environment, School of Life and Environmental Sciences