Skin cancer costs Victoria 30 times more to treat than prevent
Media release
30 June 2017
Skin cancer costs Victoria's public hospitals more than $50 million a year and remains Australia's most common cancer, despite being largely preventable, new research from Deakin University and Cancer Council Victoria has found.
The study has estimated the cost of treating skin cancer in the Victorian public hospital system for the first time, revealing that while skin cancer prevention programs are highly effective and cost-saving, funding for them attracts only a fraction of what it costs to treat the disease.
Lead researcher Dr Sophy Shih, from Deakin Health Economics, said state spending on skin cancer treatment in public hospitals - about $10 per head of population per year - was nearly 30-times current public funding in skin cancer prevention - about 37 cents.
"Approximately, two in three Australians will be diagnosed with skin cancer by the age of 70," Dr Shih said.
"Yet ironically it is also one of the most preventable cancers, and efficient, affordable and effective prevention programs are available.
"There is a common saying that that an ounce of prevention is better than a pound of cure. While we as economists know such sayings need to be underpinned by valid economic evaluation, skin cancer is an excellent example of how true this saying can be."
This latest research - published in the Australian and New Zealand Journal of Public Health today - is the first to provide an economic analysis of the cost impact on public hospitals and is an up-to-date assessment of prevention programs for skin cancer in Victoria.
"Much of the cost burden associated with skin cancer has been attributed to the primary care system - GPs and dermatologists for example - but this is a disease that is also placing a huge burden on our public hospital system," Dr Shih said.
"Our research found that, including inpatient and outpatient services, the total annual costs for Victorian public hospitals were around $50 to $55 million. And if the private hospital system was included it would add another $72 million."
Dr Shih, a senior research fellow at Deakin's School of Health and Social Development, said prevention programs offered the important potential for Victorian hospitals to redirect the savings from averting skin cancer to other non-preventable diseases.
"Effective skin cancer prevention programs such as SunSmart are not only saving lives they are saving substantial costs that would be otherwise incurred via treatment services," she said.
Cancer Council Victoria's SunSmart program is estimated to have prevented more than 43,000 skin cancers between 1988 and 2010, and prevented 1,400 premature deaths, a net saving of $92 million in healthcare costs.
"The total spend on the SunSmart program over that same period was $42 million so in terms of return on investment the program achieved a return of around $2.20 for every dollar spent," Dr Shih said.
"But if you also take into account productivity gains to society as a result - the avoidance of premature death or early retirement, as well as absenteeism associated with treatment activity - the program has prevented more than $713 million in productivity losses to the general economy over the past 24 years."
Cancer Council Victoria's Prevention Director, and co-author, Craig Sinclair said the study showed the common sense value of programs like SunSmart.
"SunSmart is a program that saves dollars, and lives. But the work is not over," Mr Sinclair said.
"We know the number of skin cancers is expected to rise with our growing and ageing population. As this study shows, sustained investment in skin cancer prevention can ease the strain on the healthcare system, as well as Victorian lives."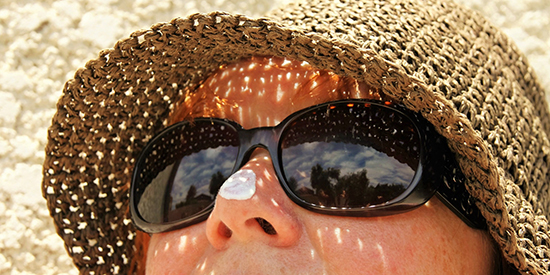 More like this
Media release
Faculty of Health, School of Health and Social Development
Centre for Population Health Research (CPHR)