SPARK Deakin selects 10 startups for Accelerator class of 2018
Media release
14 June 2018
A peer-to-peer designer clothing rental network and an online hub for custom-built artificial intelligence algorithms are among 10 promising startups chosen to take part in this year's SPARK Deakin Accelerator program.
Each team, selected from SPARK's largest applicant pool in its three year history,will receive $10,000 seed funding to turn their ideas into reality, as well as intensive training from internationally-renowned experts, one-on-one mentorship, and access to a dedicated co-working space at Deakin University's Melbourne corporate centre.
The teams include LendMyTrend, which allows users to access high-end fashion and monetise their wardrobe by pairing lenders and renters across Australia, and Aiii.io, a platform for businesses and organisations to find, test and implement AI algorithms capable of language processing and machine learning, connecting users with developers to design custom solutions.
SPARK Program Manager Daizy Maan said the program was one of the only university-led startup incubators in Australia to offer free in-house legal guidance and advice for participants, courtesy of clinics operated by Deakin Law School.
Ms Maan said one of the aims of SPARK was to support more women into the startup market, to close the current gender gap within the industry.
"We're absolutely thrilled to support such a strong and diverse cohort of teams for SPARK Deakin's 2018 Accelerator program," Ms Maan said.
"This year's teams are talented entrepreneurs who have come to us with unique selling propositions and innovative solutions to everyday problems, eager to compete and set themselves apart."
The 10 teams selected for SPARK Deakin's 2018 Accelerator are:
* Aiii.io – An AI algorithm marketplace that delivers instant algorithmic results for your apps.
* CycleCups – Returnable, reusable, takeaway cups reducing landfill by displacing disposable cups.
* DifAbility – Online training for parents supporting children with autism.
* Empowering Parents – A subscription-based model providing education, insight and resources for parents and people caring for children.
* KeyNinja – A 24/7 key delivery and verification service for guests of holiday rental hosts.
* LendMyTrend – A peer-to-peer designer clothing rental platform.
* Netik Quick Clinic – Annual healthcare subscriptions in India delivering telemedicine, medications and diagnostics.
* Ruwi's Cakes – An online 3D cake designing platform that makes it easy to create your own custom cakes.
* Staffah – An online platform taking the pain out of hospitality recruitment.
* Treiner – An online marketplace connecting soccer players with coaches and support staff.
The teams were put to the test before selection in a four day pre-Accelerator intensive facilitated by US-based mentor Saba Karim, a Deakin alumnus and Global Head of Pipeline at Techstars, and Nick Myers, Managing Director of Huntington Angels, a Boston firm that aims to grow the university venture community by connecting startups with investors and venture capital firms.
The teams were also given the opportunity to get advice and swap ideas with expert representatives from Airbnb and venture-backed startup Airmada.
Mr Karim, who is also the co-founder of Acquisitionly, said he fell in love with the startup ecosystem while attending California's Stanford University.
"I originally pursued opportunities in the US as the startup scene was super young in Australia then, but it's exciting to be back, and to see how far it's come and how much Deakin and Melbourne are investing in first time founders," he said.
Ms Maan said she hoped SPARK in 2018 could inspire success in the way past rounds had, such as with the team behind Vollie, a remote volunteering platform to pair skilled volunteers with worthy causes, co-founded by Tanya Dontas and Matthew Boyd.
With the help of SPARK Deakin, Vollie has expanded to facilitate 329 projects and provide 6028 volunteer hours for a total volunteer value of almost $300,000, a feat that earned Ms Dontas and Mr Boyd a spot among the SmartCompany Smart 30 Under 30 for 2018.
Vollie also won the Australian Not-For-Profit Technology awards Best SME Connecting the Community award for 2017, and was recently presented with the 2018 NAB NEXUS Collaborator award and $10,000 funding for a collaborative project with Kenyan youth advocacy group Youth on the Move.
SPARK Deakin regularly hosts founder events, Q and A sessions and networking functions for budding entrepreneurs to meet like-minded problem solvers, connect with motivated change makers, and offer support regardless of where they are on their startup journey.
Visit sparkdeakin.com for more details.
Share this story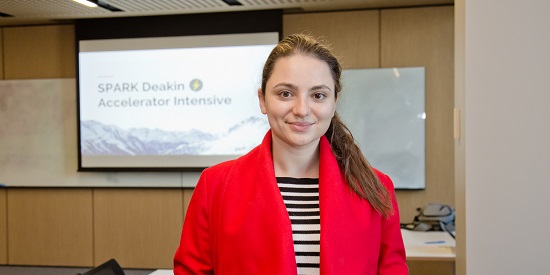 More like this
Media release