Student imaginations set to soar in new high-tech learning precinct
Media release
02 July 2021
A new state-of-the-art immersive learning precinct will stretch the boundaries of possibility for students studying Arts and Education at Deakin University.
Called Nyaal, a Wadawurrung word meaning 'to open your eyes', the highly interactive and technology rich facility at Deakin's Waurn Ponds campus will allow students to respond to and learn from a range of changeable environments, conditions and scenarios throughout the course of their studies.
Nyaal was officially opened on Friday 2 July 2021 at a ceremony attended by Minister for Training and Skills, Minister for Higher Education, the Hon Gayle Tierney, Deakin Chancellor John Stanhope AM and Vice-Chancellor Professor Iain Martin.
Professor Martin said Nyaal was the next stage in the 21st century evolution of the traditional lecture theatre.
"The past 18 months has reiterated the importance of innovation, adaptability and problem-solving, for both our students and our teachers," Professor Martin said.
"Deakin's previous investment in multi-purpose, dynamic learning spaces has ensured the quality and variety of our learning experience is one of the best in the country, and Nyaal adds to this reputation and capability.
"The Nyaal Precinct allows teachers and students to create immersive and collaborative learning experiences that are limited only by their imaginations."
Nyaal will include:
The Theatre, a round 75sqm multi-purpose space with ceiling mounted projectors that bring high quality images to life through 360-degree visual simulations.
A Think Tank, a multi-functional 75m² space for interactive collaboration with writable surfaces, adjustable furniture arrangements and mobile video conferencing capabilities.
A Tool Room where specialist staff develop tactical applications to imagined, action-orientated solutions.
A range of informal learning spaces.
Executive Dean for the Faculty of Arts and Education, Professor Vanessa Lemm, said Nyaal would enable teachers and students to connect with global collaborators, grow research capability and strengthen relationships with community and industry.
"Nyaal will deliver new opportunities for teaching and research by creating an environment that facilitates creativity and critical discourse," Professor Lemm said.
"Working collaboratively with academics, community and industry, students will develop and test solutions to real world problems using simulated scenarios that allow them to visualise ideas and concepts and bring innovative solutions to life in a fully collaborative environment.
"Our pre-service teachers, for example, can experience a classroom setting or busy primary school playtime and develop important skills before they step into a classroom.
"We are very excited by the opportunities Nyaal presents for our students to experiment and explore in ways that grow their skills, knowledge and capabilities.
"At Deakin, one of our priorities is to provide students with opportunities to collaborate with employers at each stage of their studies – this enables them to gain insights into the workplaces they will soon be a part of, and the skills that they will need to do well," Professor Lemm said.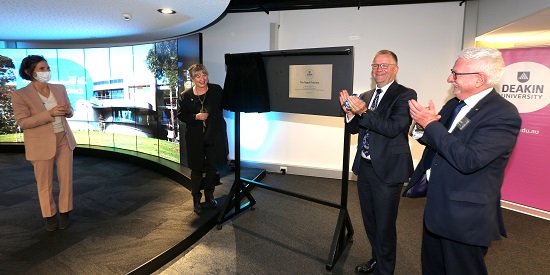 More like this
Media release
Faculty of Arts and Education, School of Education, School of Humanities and Social Sciences, School of Communication and Creative Arts