Students look to enrich their studies with international scholarship
Media release
10 February 2021
Four Geelong students are among nine Deakin University undergraduates awarded the Australian Government's prestigious New Colombo Plan Scholarships, supporting them to study, work and live overseas in 2021.
The New Colombo Plan Scholarship Program gives Australian students the opportunity to undertake semester-based study and internships or mentorships in 40 participating Indo-Pacific locations.
Since its inception, 23 Deakin University students have received a New Colombo Plan scholarship and this year three of the nine Deakin scholarship recipients were awarded a Fellowship for being the top-ranked candidate for their Host Location.
Geelong's Josh Gulli is one of those students. The former St Joseph's College student is completing a Bachelor of Social Work at Deakin and will undertake his Fellowship at the University of Peradeniya in Sri Lanka. While in Sri Lanka, Mr Gulli also plans to complete internships with Caritas Australia, the Organisation for Elangai and the Sri Lanka Ex-Servicemen's Association
"The New Colombo Plan Scholarships give students an opportunity to live in some of the most culturally rich countries in the world and create personal and professional relationships with our Indo-Pacific neighbours," Mr Gulli said.
"The experience will help me develop a deeper understanding of conflict induced mental health conditions and the prevention or reduction strategies that can help manage them."
Jasmine Daneshvar will be studying at Taylor's University in Malaysia and undertake internships with the Securities Commission Malaysia and international law firm Herbert Smith Freehills.
The former Sacred Heart College student who is completing a Bachelor of Laws/Bachelor of Commerce at Deakin said the scholarship was an amazing opportunity to challenge herself in a foreign environment and gain legal knowledge and experience from an international perspective.
"From this experience I hope to deepen my understanding of the development of regulation and policy surrounding E-commerce and Fintech in the Indo-Pacific," Ms Daneshvar said.
Megan Kaiser will study Community Development at Royal University in Phnom Penh and undertake internships with CARE Cambodia and the Cambodian Human Rights and Development Association.
The former Matthew Flinders Girls Secondary College student is completing a Bachelor of International Studies/Bachelor of Commerce at Deakin.
"I applied for the New Colombo Plan Scholarship to explore how my love for people and community can be used in an international environment," Ms Kaiser said.
"I hope to gain a deeper insight into community development in the Indo-Pacific region, specifically the role of education in strengthening communities and breaking the poverty cycle."
Rachel Grant will study social work at Manipal Academy of Higher Education in India and undertake an internship in Mumbai with Kranti, an organisation that supports women from vulnerable communities. The former Kardinia International College student is completing a Bachelor of Social Work at Deakin's Waterfront Campus.
"I've been interested in overseas study since 2019 when I completed a Deakin Unit in Nepal and saw Fairtrade organisations in action, helping some of the most vulnerable people in the world," Ms Grant said.
"It showed me the value of other cultures and how much we as Westerners have to learn from different perspectives."
Five other Deakin students awarded New Colombo Plan Scholarships this year include Ria Pillai (Fellow for India), Jessica Wayne (Fellow for Fiji), Declan Logan (Scholar for Taiwan), Joel Blashki (Scholar for Singapore) and Alina Paul (Scholar for Japan).
The New Colombo Plan Secretariat recognises that while the COVID-19 pandemic may limit the opportunity for international travel in the short term, virtual experiences, including the internships with global and offshore companies, may offer valuable professional development for scholars until travel can be resumed safely.
Deakin University Vice-Chancellor Professor Iain Martin congratulated the students on their achievement and thanked the Australian Government for supporting the scholarship program.
"The opportunity to study, live and work internationally enables Australian students to develop their professional and personal networks while becoming more independent, adaptable and resilient young leaders," Professor Martin said.
"Deakin focuses on providing a rich, contemporary education and this further opportunity for our students will challenge and inspire them to achieve their goals. We are confident our New Colombo Plan Scholarship recipients will go out into the world and represent Deakin and Australia to the best of their ability, broadening their understanding of diverse peoples and places."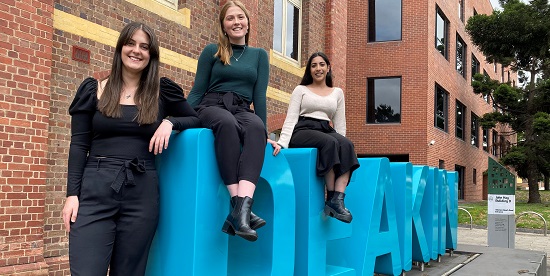 More like this
Media release
Deakin Business School, Deakin Law School, Faculty of Health, School of Health and Social Development, Faculty of Arts and Education, School of Humanities and Social Sciences