Study shows betting ads influencing children's attitudes to gambling
Media release
20 February 2017
With the AFL pre-season kicking off last weekend, leading public health academic Samantha Thomas has warned pervasive betting marketing linked to the sport is driving a normalisation of gambling in young children.
A new report from Associate Professor Thomas and colleague Hannah Pitt, both researchers in Deakin University's School of Health and Social Development, shows many children are keen to gamble because of attractive advertising and its link to their favourite sport.
"While the sports betting industry argues that the marketing for their products does not target children, children are nevertheless exposed to and influenced by the marketing messages they see," Associate Professor Thomas said.
"Even though many of the children we interviewed had never gambled on a sporting event, they were able to describe different gambling markets, betting options, and 'deals'."
The study, published in the Harm Reduction Journal, interviewed 48 young AFL fans aged eight to 16 on their attitudes towards gambling, whether they had engaged in gambling, and if they intended to in the future.
"Children who had current or future gambling consumption intentions were strongly influenced by gambling advertising, particularly for sports betting," Ms Pitt said.
"Children described that advertising made betting seem 'easy' or 'fun', while others stated that gambling advertisements showed that 'everyone wins'. Others were particularly aware of the incentives and promotions that were offered by betting companies.
"When these promotions are aligned with a culturally valued activity such as sport, they do appear to be particularly influential."
Of the children interviewed:
Just under 40 per cent described engaging in formal or informal gambling.
A third indicated they would like to gamble in the future.
A quarter said they wanted to try gambling now and in the future.
More than a third said the gambling product they would most like to try was sports betting. This was three times the next most popular options – lotteries, horse racing and casino games (all at 12.5 per cent).
Almost half identified sports betting as the most popular gambling product they could think of.
Associate Professor Thomas said Australia already had a big problem with gambling.
"Australians spend more money per capita on gambling than any other country in the world, with 2014/15 figures estimating that Australian adults spend on average $1241 per person on gambling each year," she said.
"There has been a 160 per cent increase in advertising spend for gambling since 2011. And with the development of a range of new gambling products, and the marketing for these products, children are potentially exposed to gambling more than ever before.
"Similarly to adults, a broad range of harms are associated with children's gambling behaviours, including mental health problems, issues associated with self-esteem and self-confidence, truancy, a reduction in academic performance, and other risk taking behaviours."
The report makes several recommendations to address potential gambling related harm for children.
Restricting gambling company advertisements from depicting gambling as a way of developing or building friendships and as a social activity.
Restricting gambling advertisements from sporting events and television broadcasts.
More education for children about the risks of gambling.
Public education campaigns for parents and children about the marketing strategies and tactics used by the gambling industry.
"There is a great need for governments to develop effective policies and regulations to reduce children's exposure to gambling products and ensure they are protected from the harms associated with gambling," Associate Professor Thomas said.
"The burden of proof should be on the gambling industry to show that the marketing of their products will not influence risky patterns of gambling in young people either currently, or in the future, before they are allowed to expose young people to marketing for these products."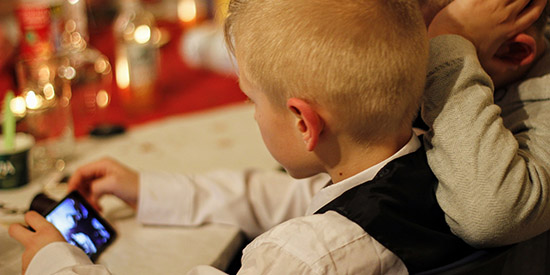 Key Fact
Key fact content
More like this
Media release
Faculty of Health, School of Health and Social Development