Study uncovers forgotten Aboriginal names for Melbourne suburbs
Media release
11 July 2018
A Deakin University study has identified Aboriginal names for Melbourne suburbs including Fitzroy, Brunswick, St Kilda and North Melbourne.
The place names were found during the study of Melbourne Museum's colonial records by a team of researchers, including members of Aboriginal communities, historians, linguists and anthropologists from a range of organisations.
Deakin School of Humanities and Social Sciences historian and lead researcher, Associate Professor Helen Gardner, said the names were found by Deakin research fellow Dr Jason Gibson during the study of a cache of notes made by anthropologist and Gippsland magistrate A. W. Howitt.
"The notes appear to be records of conversations Howitt had with ngurungaeta (leader) of the Wurundjeri-willam, William Barak, and his fellow Kulin countryman, Dick Richards, sometime between 1897 and 1901," Associate Professor Gardner said.
"The palm-sized, leather bound notebooks written in his barely legible hand, were not precise or verbatim records of these conversations but aides to memory.
"Throughout one notebook we can see that Howitt has jotted down Aboriginal names corresponding to landmarks and municipalities that arose in Melbourne town during Barak's lifetime (c1824 – 1903).
"These are an exciting find as they allow us to reimagine the landscape beneath our city streets and recreate a past that was previously lost."
While there was no accompanying map, Associate Professor Gardner said the names identify landmarks and perhaps sites of Ancestral stories over land owned by Barak's clan and beyond.
"They add some 10 new locality names and further tantalising details to what is already known from other publications," she said.
"Fitzroy, for example, the first suburb of Melbourne gazetted in 1839 and the first municipality beyond the Melbourne borders, is listed in Howitt's notebook as Ngár-go, meaning 'high ground'.
"The suburb of Brunswick corresponds to Bulleke bek, a term that appears to include the suffix 'bik' meaning 'ground/country/place', although Howitt's English gloss for this name is difficult to decipher."
Dr Gibson acknowledged that it was difficult to exactly know what Barak and Richards were referring to when they provided Howitt with these terms.
"The truth is that in the absence of more precise geospatial information we will never know exactly what all the names refer to, yet they do add further details to an alternative vision of Australia's fastest growing city," he said.
"Some names describe land use or vegetation that have in most cases been eradicated, others are suggestive of ancestral stories.
"The term for Collingwood Flat, Yalla-birr-ang, for example, is described as 'a very old name' that means 'the wooden point of a reed spear', which could reference the place in a story where an Ancestor fashioned a spear point, or fixed one."
Through the Australian Research Council funded study 'Howitt & Fison's anthropology: using new methods to reveal hidden riches' the research team is analysing nineteenth century anthropologists Lorimer Fison and A.W. Howitt's accounts of Indigenous kinship, social organisation, and local languages, and historical encounters between settlers and Indigenous people.
The researchers are assembling the meticulous records into best-practice digital formats, with widely accessible interactive data presentations that will be available for community use. These will become available over the coming year through a website developed at Melbourne Museum.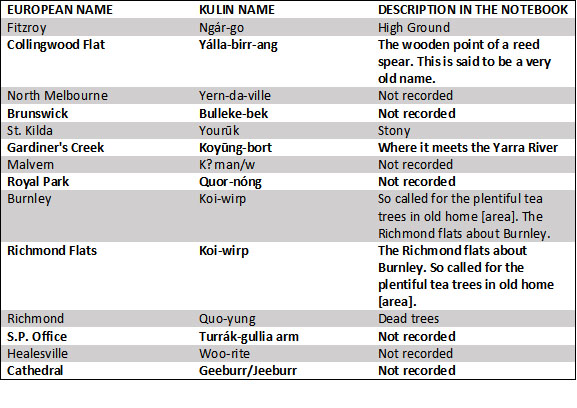 NB: These words are to be included with any stories published that are based on this media release: Permission for access and use of any cultural information, language, and place names within this article must be obtained by written approval from the Wurundjeri Corporation.