The secret to making working from home a happy, healthy place to be
Media release
03 June 2020
How home office design impacts on wellbeing and productivity is being investigated in a new project that aims to identify the elements needed to create a happy home workspace.
Researchers from Deakin University's Live+Smart Research Lab in the School of Architecture and Built Environment have partnered with a team from Deakin's School of Psychology to identify the design elements needed to improve mental health outcomes for home-based workers.
Director of the Live+Smart Research Lab, Dr Phill Roös said the research project was prompted by the numbers of people working from home as a result of COVID-19 restrictions.
"Many home workspaces are temporary setups in shared areas of the home such as dining rooms, kitchen counters or bedrooms so there is a lack of privacy and the chance of frequent interruptions," Dr Roös said.
"They can be in small, make-shift areas that lack adequate heating, cooling and ventilation to ensure they are healthy.
"Biophilic design, which uses the patterns found in nature, tells us that light, well-ventilated spaces with indoor plants or views to the garden have a positive impact on our mental health and we'd like to know if the same principals will ensure positive outcomes for people working from home," Dr Roös said.
Dr Arlene Walker from the School of Psychology said many people had found working from home quite challenging.
"People have reported increased feelings of stress, anxiety, loneliness and disconnection from others," Dr Walker said.
"These feelings can make it hard to switch off from work or retain focus on everyday tasks but they can also lead to more serious problems such as depression, mood swings, poor sleep patterns and family discord.
"We want to understand how the home office environment contributes to these feelings and whether improvements to design and space could help people feel happier when working from home.
"A 2018 study of more than 1600 office workers in North America, published in Harvard Business Review, found that natural light and outdoor views were more highly valued by employees than office perks such as onsite cafeterias, gyms or childcare," Dr Walker said.
Dr Roös said current guidance for working from home was mostly focused on occupational health and safety issues, daily routines such as regular exercise and breaks and staying in contact with work colleagues online or by phone.
"Setting home office guidelines that include abundant natural light, good ventilation, windows with garden views or indoor pot plants could be as important as a comfortable chair or having a desk at the right height," Dr Roös said.
"Understanding how a home office workspace contributes to mental wellbeing extends beyond the current pandemic and will better prepare us for continuing changes in future work habits."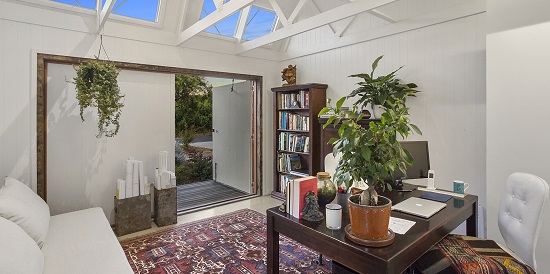 More like this
Media release
Faculty of Science Engineering and Built Environment, Faculty of Health, School of Architecture and Built Environment, School of Psychology
---
Related News
Waterfront to welcome ABCs radio in residency in March 2022
Deakin's iconic Waterfront campus will welcome and host the ABC for a month-long radio in residency in March after plans for an October broadcast were rescheduled. The decision was made in response to the ongoing uncertainty of COVID-19 restrictions.