'Tiny House' project set to make a big impact in Geelong and beyond
Media release
24 March 2020
The small home movement in Geelong has received extra momentum from an innovative collaboration that aims to achieve greater affordability for homeowners and people in need of transitional housing.
A local partnership between Deakin University, Geelong technology company FormFlow, and short-term accommodation provider Samaritan House Geelong, has developed a prototype, prefabricated, one-bedroom unit called Prefab21.
Project leader, Professor James Doerfler from Deakin's School of Architecture and Built Environment, said the collaboration aimed to create a home that was comfortable, sustainable and affordable.
"Our architecture students worked closely with our partners to design a prototype Independent Living Unit that will be used at Samaritan House Geelong," Professor Doerfler said.
"This industry partnership created a unique real-world learning experience for our students and produced a home that exceeded the original goals.
"Prefab21 draws on sustainable design principles using strong, durable, recyclable materials, and exploits the potential of FormFlow's world-first revolutionary bending technology and advanced prefabrication processes.
"Importantly, the project also helps position Geelong at the forefront of sustainable, smart and efficient advanced manufacturing, and demonstrates our commitment as a globally recognised City of Design to the community's clever and creative vision," Professor Doerfler said.
Measuring 4m by 10m, Prefab 21 comprises a living space, bedroom and bathroom and is the first of seven independent living units to be installed by Samaritan House Geelong in the suburb of Moolap as transitional accommodation for men who have experienced homelessness.
Samaritan House Geelong Board Member Brian Sherwell said the project is an innovative response to the shortage of affordable rental accommodation for single homeless men in Geelong.
"This is an exciting project for us because it encourages local collaboration with Deakin and FormFlow, and supports Geelong innovation. It has excellent potential for independent living, especially related to social housing needs in regional Victoria and elsewhere across the country," Mr Sherwell said.
FormFlow Chief Operating Officer Bernard Brussow said Prefab 21 met six-star energy ratings and had a reduced carbon footprint because all components could be recycled.
"Passive solar features include a north-facing orientation, elevated ceiling, high eaves and a 'floating' roof, which accommodates the winter sun and block the summer sun. Despite its size, the window positions and high ceilings give the house a sense of spaciousness and ensure it doesn't feel boxed-in," Mr Brussow said.
Mr Brussow said the Prefab21 concept has wide potential in prefabricated modular living and tiny house applications.
"As well as transitional housing, the design is already being used by conventional homeowners who need extra space, such as families with growing teenagers. It can also be used as emergency accommodation after bushfires or earthquakes and its modularity means it can be expanded for standard housing, with particular value in high density urban areas and developing nations," Mr Brussow said.
"The project has allowed us to demonstrate how next-generation design and manufacturing offer a new way of thinking about 21st century housing," Professor Doerfler said.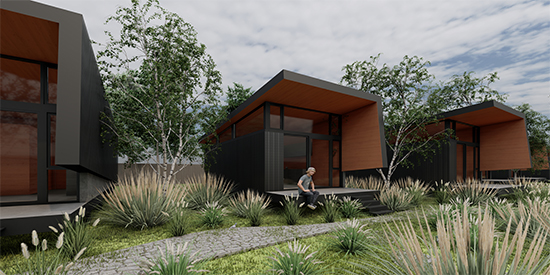 More like this
Media release
School of Architecture and Built Environment, Faculty of Science Engineering and Built Environment
Architecture and construction management, Engineering, Design