Vale Emeritus Professor Malcolm Skilbeck AO
Media release
30 June 2022
The Deakin community is deeply saddened by the passing of Emeritus Professor Malcolm Preston Skilbeck AO on 17 June, former Vice-Chancellor of Deakin University (1986-1991), and pays tribute to his significant place in the history of the University.
Professor Skilbeck was appointed as Deakin's second Vice-Chancellor and Principal in 1986, arriving with an international reputation as a thinker and contributor to education policy at the highest level. His expertise included educational policy analysis, curriculum, tertiary and secondary education, the teaching profession, and educational innovation.
Born in 1932 in Northam, Western Australia, Professor Skilbeck was educated at the University of Sydney (B.A.), the University Illinois (M.A.) and the University of London (PhD).
Former director of the Curriculum Development Centre in Canberra and one of Australia's most noted educators, he argued for universities to become more performance oriented, accountable and less reliant on government funding.
Current Vice-Chancellor, Professor Iain Martin said that Professor Skilbeck's contributions to Deakin University and the Australian and international education sectors cannot be overestimated.
"Professor Skilbeck advocated for many of the qualities that Deakin is now known for: innovative and independent thinking, distinctiveness and opportunity.
"From his first year at Deakin in 1986, Professor Skilbeck led the University through considerable challenges and change, including a drive to raise the research and development program.
"In that same year, he also established our School of Nursing – the first in an Australian university – marking the transition of the training of nurses from hospitals to universities. Deakin's nursing degree is now ranked 30th in the world.
"Most significantly, Professor Skilbeck navigated Deakin through the Dawkins reforms, and played a major role in leading the University towards an expanded multi-campus institution, including mergers with Warrnambool Institute of Advanced Education, and Victoria College in 1991.
"But perhaps Professor Skilbeck's most visible legacy, and one that is appreciated every day by students and staff alike, was his transformation of the Waurn Ponds campus landscape.
"His passing will be felt deeply across our community and the sector."
In an interview in 2001, reflecting on his time as Vice-Chancellor, Professor Skilbeck lauded the unique qualities and reputation of Deakin University, saying that staff wanted to work at Deakin because of the ideas and vision that it embodied, particularly regarding distance education, of which he was a lifelong proponent.
"I came in saying it was a great institution – it's built on a wonderful idea, the concept is brilliant. There are some very outstanding people there who have come to the University because they like that kind of institution…which is not common…to identify with the institution (so strongly) is not common."
Following his resignation in 1991 he accepted a senior position with the Organisation for Economic Cooperation and Development in Paris, reviewing and advising on educational policy across all OECD countries.
Professor Skilbeck was a Fellow of the Academy of Social Sciences in Australia, and in the 2014 Australia Day Honours, he was made an Officer of the Order of Australia "for distinguished service to tertiary education as an administrator, researcher and author, and through significant contributions to curriculum development and policy formation, both nationally and internationally".
The Deakin community extends its best wishes and sympathies to Professor Skilbeck's family and friends.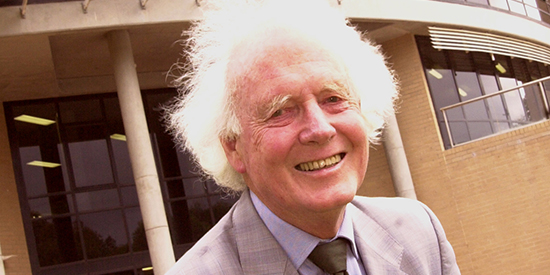 More like this
Media release