VC statement on an Aboriginal and Torres Strait Islander Voice to Parliament
Media release
27 March 2023
Statement from Vice-Chancellor Professor Iain Martin on an Aboriginal and Torres Strait Islander Voice to Parliament
Deakin University supports the Uluru Statement from the Heart and recognises this as a vital component in building the future of our nation. Inherent in this statement is the understanding that constitutional reform will be required to enshrine a First Nations Voice.
Deakin's support for the Uluru Statement is embedded in our University Strategic Plan, Ideas to Impact:
Indigenous knowledges and ideas inform our future – Deakin is committed to Reconciliation and Treaty, advancing the educational aspirations of Aboriginal and Torres Strait Islander Peoples, and ensuring Indigenous knowledges are widely recognised and woven into the fabric of Australian life. All our endeavours will reflect on Australia's full history and seek to build an inclusive future.
This commitment is being given life through our first whole of University Indigenous Strategy launched earlier this year. Our Indigenous Strategy asks the Deakin community to take responsibility for Indigenous education and 'walk together with First Nations Peoples with bold ideas that enrich us all'.
The unequivocal advice from Deakin's Pro Vice-Chancellor Indigenous Strategy and Innovation, Professor Mark Rose, and the Vice-Chancellor's Indigenous Advisory Committee (VCIAC) was that our duty is to ensure that, as far as possible, our community is fully engaged with the debate, understands the pivotal importance of the referendum and that they can go into the voting booth with a deep understanding of this question.
They were also clear that we must ensure, to the best of our ability, that these issues are considered with care and respect for all in our community and that we commit to our role in building the nation's future post the referendum.
Universities must play a role in the critical debate at these nation-changing moments, and the principles of academic freedom and freedom of speech must not just be preserved but championed. Every member of our University community who is eligible to vote has an absolute obligation to consider these issues carefully and seriously.
Our Executive team and governing Council believe strongly that supporting a Yes position in the referendum for the Voice to Parliament is an extension of our support for the Uluru Statement from the Heart, and we encourage all members of the Deakin community to fully participate in the process.
We recognise that not everyone in our community will adopt the same position. We respect this and encourage everyone to engage in the debate and discussions with the care and respect this issue deserves.
The Voice Referendum is a nation-defining moment. The chance to change the Constitution is among the most serious things that can be asked of the people of our country. It is vital that everyone in our community who is eligible to vote considers the weight and importance of the question fully and informs themselves of the history and issues that sit behind the referendum.
Updated: 7 July 2023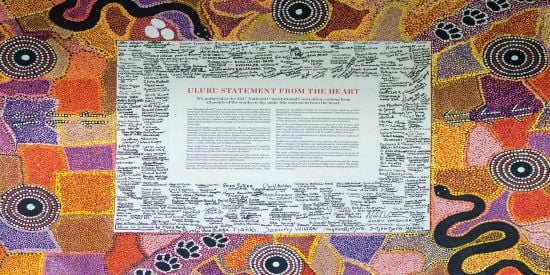 More like this
Media release