Venetian Blind: Deakin Art Gallery unveils first exhibition of 2021
Media release
10 February 2021
Opening to the public this week at the Deakin University Art Gallery, Melbourne Burwood Campus is Venetian Blind, an exhibition exploring an art project that took place in 2019 in the European Cultural Centre exhibition Personal Structures. The original exhibition was held in conjunction with the 58th Venice Biennale and featured 23 Australian and New Zealand artists.
The project title is a word play on the famous Venetian architectural invention, referring to the artists entering into a project with little knowledge of what they're expected to do. The curators constructed six specific briefs, in which artists were asked to consider one of a range of issues to do with class, sexuality, colonialism, race, globalisation and political structures. These big-picture themes were framed by specific stories, people and places relating to the history of this remarkable city on the water.
Deakin's 2021 exhibition offers a re-staging of the original event in Venice, complete with various provocations and documentation of a diverse range of place-based creative responses. The artists were also invited to respond to a new provocation offered by the curators, completed in-situ at the Deakin University Art Gallery. This series of new artistic expressions are juxtaposed with the original works that together look at the importance of collaboration, time-based and site-specific research.
The exhibition is curated by Professor David Cross and Associate Professor Cameron Bishop from Deakin's School of Communication and Creative Arts, and is run by the University's research initiative, the Public Art Commission.
The original was a hybrid exhibition/public art event, involving the commissioning of six public art projects across Venice over six months from May through to November 2019.
Working in six teams, one for each month of the Biennale, 23 researchers and PhD Candidates were each asked to deliver a series of creative responses using their own personalised box of assorted objects containing art-making materials and artefacts, which included films, drawings, texts, installations and documentation. The artists were invited to make one or more artistic works in response and display them throughout the public spaces of Venice, and to then exhibit them along with documentation at the Palazzo Bembo gallery space.
The artists responded to various historical events and sites around the public spaces of Venice, specifically its filmic and architectural histories, and the power relations between the people, its rulers, its natural environment and those that would seek to challenge the city's geopolitical position between the Adriatic Sea and greater Europe.
The exhibition at the Deakin University Art Gallery has been designed by Deakin's Associate Dean Meghan Kelly, School of Communication and Creative Arts and celebrates one of Deakin's largest international public art exhibitions and the Commission's biggest undertaking in Europe, following large-scale ensemble public art projects in New Zealand and Tasmania.
WHAT: Venetian Blind curated by David Cross and Cameron Bishop. Free entry.
WHEN: Wednesday 10 February to Friday 26 March 2021.
WHERE: Deakin University Art Gallery, Building FA, Melbourne Burwood Campus, 221 Burwood Highway, Burwood. Gallery hours: Tuesday to Friday, 10am to 12.30pm and 1.30pm to 4pm.
Image caption:
Sandy GIBBS, Jondi KEANE and Patrick POUND
The Spacer 2019
digital video of public actions in Venice
© and courtesy of the artists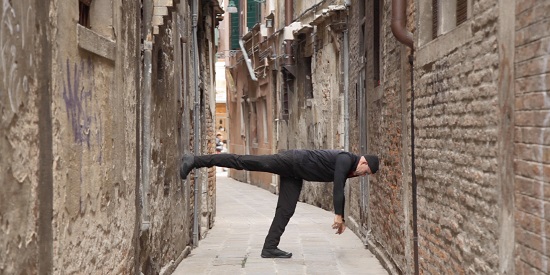 More like this
Media release
Faculty of Arts and Education, School of Communication and Creative Arts, School of Architecture and Built Environment