Victorian 2020 graduate teachers also go online for learning
Media release
05 August 2020
As schools across Victoria begin a second period of remote learning, the state's graduate teachers are also experiencing a first year on the job like no other and are receiving important professional guidance via an innovative online format.
The 2020 Graduate Teacher Conferences (GTCs) are, for the first time, being delivered remotely through a partnership between Deakin University and the Victorian Department of Education and Training.
The GTCs provide a critical first step for graduate teachers, enabling them to connect with peers for support, work through challenges, and build professional networks during an important development phase of their new career.
This year's program agenda, which has been significantly re-designed for online delivery during Term 3, includes a particular focus on support in navigating the impacts of COVID-19 on the education sector.
Director of Deakin's Research for Educational Impact (REDI) in the School of Education, Professor Julianne Moss said the program aimed to provide a meaningful interactive experience for graduate teachers.
"Deakin is renowned for its digital learning expertise and this refreshed conference program will support our newest entrants in the teaching profession at a unique moment in time," Professor Moss said.
Project Manager Dr Brandi Fox, said the tailored conference program was particularly well-suited to graduate teachers in rural and remote areas.
"This is a unique opportunity to support graduate teachers, especially through the challenges and successes they have experienced adapting to remote learning in 2020," Dr Fox said.
"The online program gives us the chance to reach beyond the major centres and deliver a well-designed induction experience to teachers who often don't have mentor support.
"Our places are filling fast as teachers recognise the value of establishing collegial support, relevant professional learning experiences and embedding a continuous learning culture from the start of their careers," Dr Fox said.
Program Overview and adaptation:
Key features of the 2020 program include:
Smaller participant numbers (40 – 50) per conference and increased numbers of facilitators (4 per conference) to ensure a personalised experience and opportunity to engage in fruitful discussion;
Specialised collaborative online activities through using adaptive technologies such as Zoom and Slido;
The use of breakout rooms to enable authentic discussion and sharing of practice;
Deliberate breaks built into the agenda to encourage movement and physical breaks from the computer;
Spacing and interleaving of key concepts in order to reduce the cognitive load of both facilitators and participants; and,
Development of a 'digital' showbag; a one-stop shop for graduate teachers where all content that is referenced throughout the day is conveniently housed for graduate teachers.
Interested Graduate Teachers and information for school principals can be found at: https://www.education.vic.gov.au/school/teachers/profdev/Pages/induction.aspx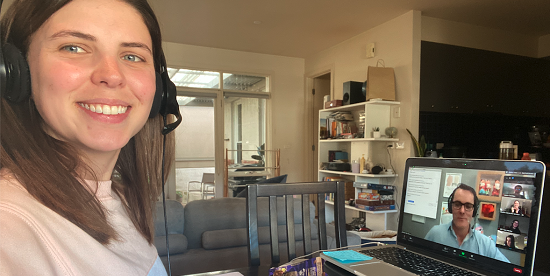 More like this
Media release
Faculty of Arts and Education, School of Education
Research for Educational Impact (REDI)