Warrnambool campus is home to some of the world's best researchers
Media release
08 June 2022
Deakin University's Warrnambool campus is home to some of the world's best researchers, investigating important issues such as sustainability, road safety, rural water management and mental health, just to name a few.
School of Life and Environmental researcher Dr Cecilia Biancacci is playing a key role in the road to sustainability through her studies into seaweed aquaculture in both the Warrnambool region and Tasmania.
"Kelps form underwater forests and are just as important as the forests we see on land" said Dr Biancacci "Seaweeds are key organisms of the marine ecosystem, providing many ecological services and environmental benefits for a variety of organisms such as the productions of oxygen and mitigation of ocean acidification" Issues that are causing the coral reefs to become bleached.
Dr Biancacci's work in seaweed research plays a vital role in the sustainability of Warrnambool marine life. Deakin recognises the importance of the work researchers undertake which is why the Early Career Researchers Fund was established.
The fund allows community members to support researchers as they kick off their careers .
You can support research, like Dr Biancacci's here in Warrnambool, by donating today.
The importance of the Deakin Early Career Researchers Fund has been recognised by Community Bank at Deakin University, who will match donations of $100 or more up to a total of $30,000, as long as those donations are made by 30 June 2022.
Simply visit deakin.is/giving-scholarships or contact the Advancement team giving@deakin.edu.au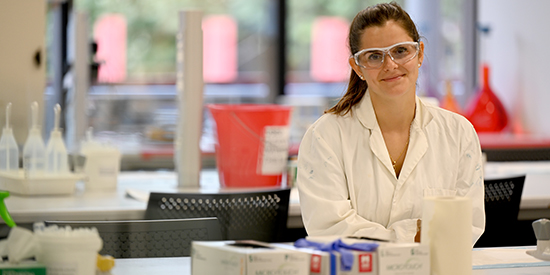 More like this
Media release
Faculty of Science Engineering and Built Environment, School of Life and Environmental Sciences