World first study shows running can keep bone marrow young
Media release
17 January 2018
Victorian research published today in the Journal of Bone and Mineral Research is the first study to show regular exercise can slow down or stop spinal bone marrow from turning into fatty tissue as we age.
Importantly though, running was the most effective way to keep bone marrow young. Study participants who ran more than 20km per week showed benefits, with long-distance runners shown to have bone marrow eight years younger than participants who were sedentary and performed no regular sport.
In fact, for every 9km a person ran per week, the bone marrow was one year younger.
The study included 101 men and women aged 25 to 35 years and participants came from four groups – long-distance runners (at least 50km per week), habitual joggers (20 to 40km per week), high-volume cyclists (at least 150km per week) and a non-sporting group.
Lead researcher Associate Professor Daniel Belavy from the Institute for Physical Activity and Nutrition at Deakin University, said the findings were the first to show that running can keep bone marrow young.
"Importantly, the findings suggest that the average person could gain 'younger' bone marrow by small amounts of running," Associate Professor Belavy said.
"Humans are born with predominately red blood cell producing bone marrow, however with age, this converts into a yellow fatty marrow. This can negatively impact blood and bone metabolism in areas such as the pelvis, vertebrae, thighs and hips and contribute to other chronic conditions, such as diabetes and osteoporosis.
"Our understanding of bone marrow has developed significantly in recent years and we now know that bone marrow fat has a direct impact on blood cell development and bone cell activity.
"The study showed that there is a significant correlation between long-distance running, which loads the spine, and a lower level of bone marrow fat. What was interesting however, was that the high-volume cyclists had a similar level of bone marrow fat to the non-sporting group.
"While the cyclists trained at similar aerobic levels and were of similar physical fitness to the long-distance runners, it was the impact-loading activities that were shown to build bone tissue.
"Runners, who undergo repeated cycles of higher spinal loading than cyclists, are known to have higher vertebral bone density and we showed they maintained low levels of bone marrow fat," he said.
Associate Professor Belavy said the results also had important implications for people who weren't long-distance runners.
"Our results showed that regular jogging also helped keep bone marrow young, so you don't need to be a long-distance runner to gain benefits," he said.
The study is part of ongoing research that Associate Professor Belavy is conducting on the impact of physical activity and inactivity on the spine.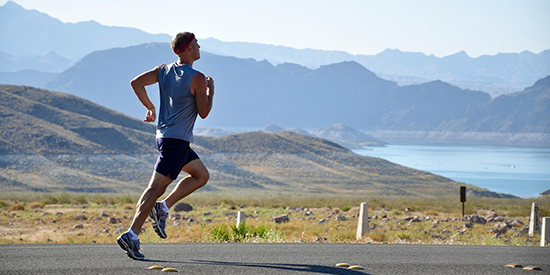 More like this
Media release
Faculty of Health, School of Exercise and Nutrition Sciences
Institute for Physical Activity and Nutrition (IPAN)